I don't think there is any mom who exists that has peace in her soul all the time. If there was, I would question her mental coherence. Or her authenticity. Moms are just humans who are raising little humans, trying to make the best of each day. Some days aren't so great; we get in mom ruts, wake up on the wrong side of the bed, get in arguments with our partners, etc. Usually we're tired (I think all moms with young children can agree on that). But there are things we can do to help us feel more inner peace during this time in our lives in which we're giving so much. Here are 7 great examples!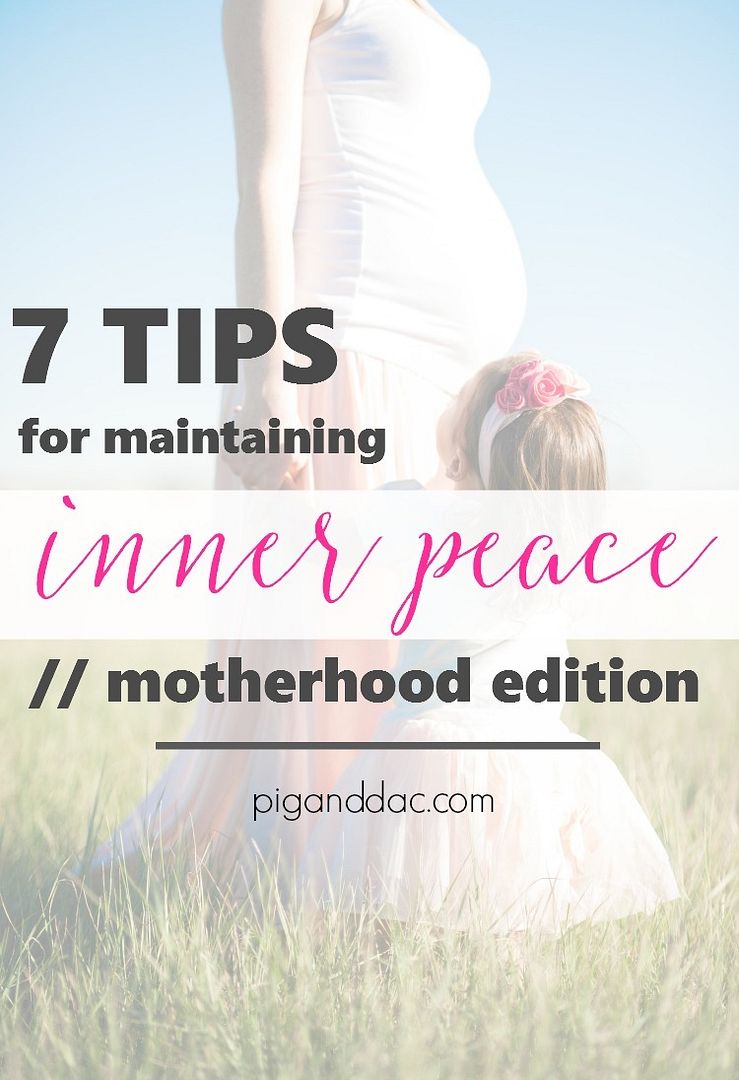 1. Seek solitude at least once a day
I think this is important for anyone, but especially moms since we usually aren't even able to complete an entire thought without being interrupted. It doesn't need to be elaborate, but taking 10 minutes for yourself every day does wonders for your mental and emotional health! It gives you a chance to breathe, think, and get in touch with yourself. Read some tips here on how to make the most of your alone time.
2. Forgive yourself
Nothing is more useless and harmful than holding grudges against yourself and constantly feeling like you've failed your children. Moms are probably the winners for carrying around the most guilt. We have society coming at us from every direction reminding us that we aren't putting our children to sleep right, feeding them the best foods, or disciplining them in the best way. We really can't do anything right in the eyes of some "professional" out there. It's no wonder moms have so much guilt!
Know that you are human; you will make mistakes, and these mistakes will teach your children what it means to be human, what to expect from other humans, and how to deal with being human themselves. 
3. Spend quality time with your children every day
Some days we get so caught up in our busyness that we don't really ever sit down to just be with our children. And as bad as it sounds, sometimes it's the last thing we want to do. Why? Because we're exhausted and overstimulated. But you know that really good feeling you get when you sit and just pay full attention to your children? When you notice how amazing they are, how smart and funny, how clever and sweet. You know these things, but during these moments you really see these things. And it somehow revives you and makes your heart hurt so good! And it makes them happy too. Add it to your daily to-do list and see if it doesn't make you feel better!
4. Follow the beat of your own drum
As mentioned above, moms are constantly inundated on what kind of parenting rules they should be following. Almost all of these theories and rules make moms feel bad, no matter which one they choose. Why? Because moms have instinctual feelings inside them on how to raise their own children, added in with their and their children's personalities and temperaments. Follow your heart when it comes to decisions you make for yourself and your children. You may not make the choice that an "expert" or another mom would agree with, but you will make the best choice that you can, in that particular moment, with your particular child. Guaranteed we won't always make the best choices, but we'll find peace in not comparing ourselves to others' standards.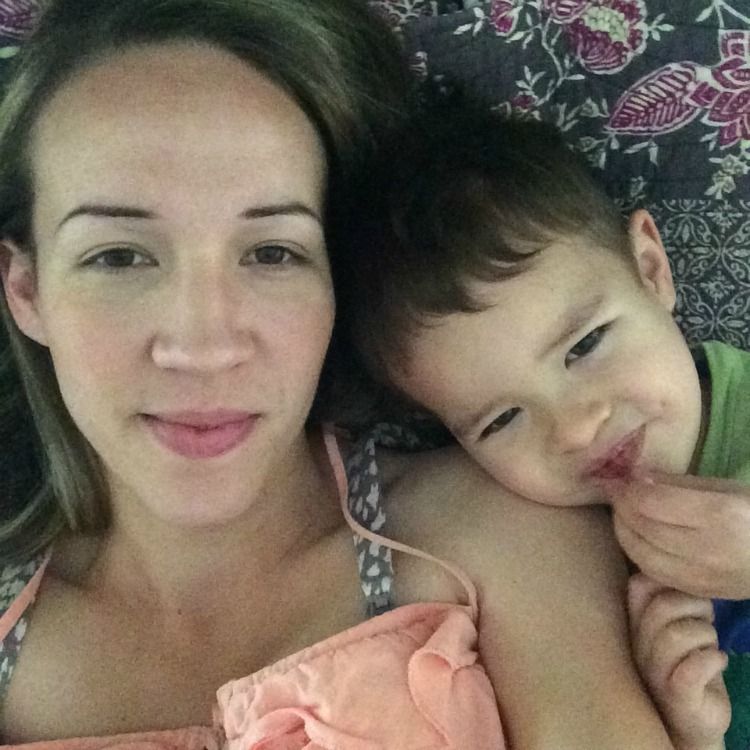 5. Take time out of the house for yourself
Not all moms may agree on this, but getting out of house alone can be very energizing. Dinner with girlfriends, a monthly book reading meetup, a quiet trip to the bookstore (anywhere quiet), or a walk around Target. Just as long as you're childfree and able to enjoy something you like doing without having to cater to anyone else for a couple of hours (or more or less, whatever feels right for you)!
6. Prioritize date night
I think this one might be the hardest to do, but it's also one of the most important! Your relationship with your partner is really the foundation of the entire family, and while it's so easy to put it on the back burner during early parenthood, it truly deserves front row seating if you can swing it. It doesn't need to be anything complicated, especially if you don't have access to trusted childcare, but even doing a candlelit dinner after the kids are in bed would suffice for a special date night. Having a strong, supportive relationship makes for happier parents.
7. Have a passion outside of motherhood
I personally don't think it's very healthy to completely immerse yourself into one role, such as being "mom". I think every mom needs something on the side that is her passion and that she enjoys doing. It could be crafting, reupholstering furniture, writing, reading, working out, etc. This is likely something you've enjoyed doing most of your life in some degree, or have always thought about doing. It's something that you get lost in and are excited to talk about. That's your passion, and you shouldn't neglect it because it's who you are!
These are all just examples of things you could try, but the main objective is to give more to yourself to maintain a healthy inner balance of peace and happiness. You spend the majority of your days giving all of yourself to your family, which isn't a bad thing, but remember to take care of you too, in any small way that you can!
Okay, so tell me some things that you do to help maintain a level of inner peace inside your mommy soul?