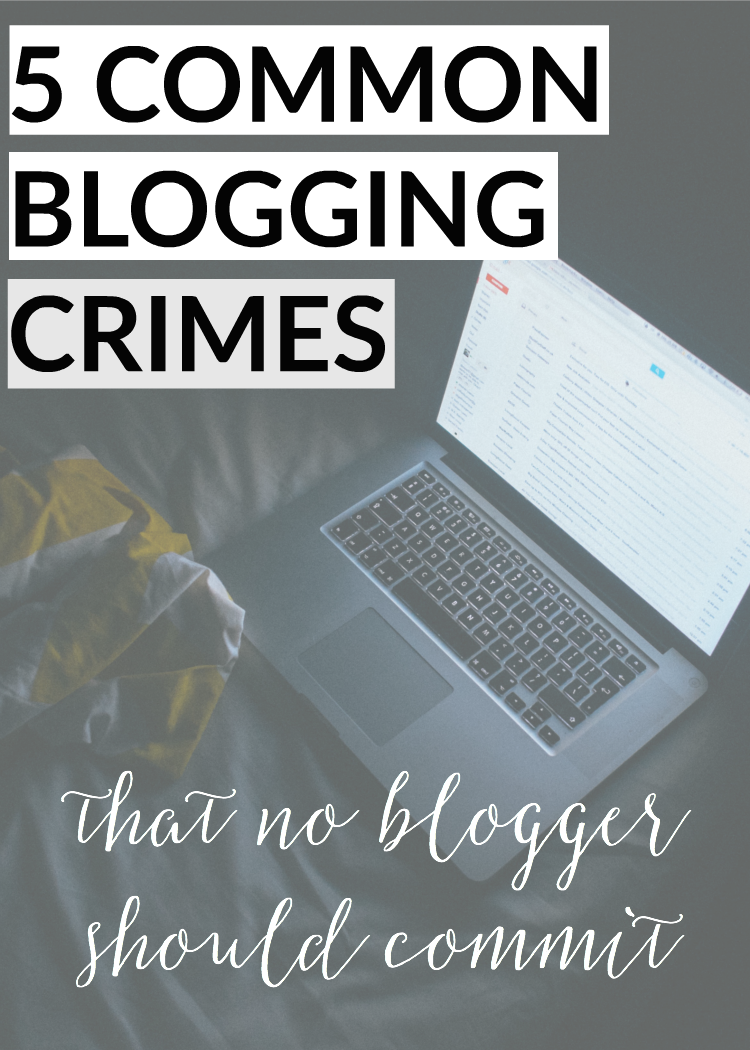 My blog is 4 years old, although I didn't start blogging consistently until about a year ago. During these past few years, I've committed every blogging crime that there is. Some are cringe-worthy, and some are just things I learned in hindsight through experience. I even still commit blogging crimes on a daily basis; some I'm lazily aware of and some that I'm sure will become glaringly obvious in a few months time. Experience; it's how we learn! If you have just started a blog (or are even further on down the line, commitin' crimes you don't yet realize) here are my top five blogging crimes that hopefully you can learn from!
1. Asking for followers
Ooooh...cringing. Yes, guilty. This one is bad, people, don't do it. When you first start out, you get this desperate feeling for acceptance...I mean it's kind of painful to have zero followers, amiright? But don't go to someone else's blog and say "Hi, this is Jessica from www.piganddac.com! I just followed you on XYZ, I hope you get a chance to do the same!"
That's a slap in the blogging face. Whenever I get comments like that on a post, I think "Oh...so you didn't even read the post that I spent two hours putting together, you just want me to go follow your blog even though you very obviously don't read MY blog?" Not cool!
If you want support in the blogging world, leave genuine comments, multiple times. That's when the blogger will start to recognize you as a genuine reader of their blog and someone worth their time to follow back.
2. Baaaad photos
Here is a true photo I posted early on in the game.
WTF?! Not only is that the worst side-profile shot of Piggie EVER, but notice the super small size and the haunting effects I added that I thought were cool. No Jessica, not cool.
Rules for photos - big, bright, and clear. Don't make us pull out a magnifying glass to see your pics!
3. Not being consistent
For the first three years of my blog's life, I didn't post consistently. Sometimes I posted several times in a week and then not again for a month. That's obviously why I had no followers...who could follow that?
I think consistency is one of the biggest determining factors between a blog that's serious and one that's just a nonchalant hobby. Pick a schedule, and then stick to it to the best of your ability. Even if it's once a month, that's consistent if you post once every month on the same day. Your readers can have something to expect from you.


4. Posting low quality content
The next crime I committed after I chose to start becoming more consistent was posting totally random crap for the sake of posting. Don't do that either. If you want people to take your blog seriously, please don't make their eyes bleed trying to read your boring content. If you aren't excited when you press the publish button, don't publish it!!
5. Not selling myself
This is something I learned just this year. I'm am NOT a sales person. I don't like to push things on people and the thought of selling my blog more made me clam up. But you know what...the truth of the matter is no one is going to know you wrote a post if you don't tell them! And they may not see your one and only post on Facebook in the midst of tons of other stuff in their feeds! You gotta put it out there, baby! More than once.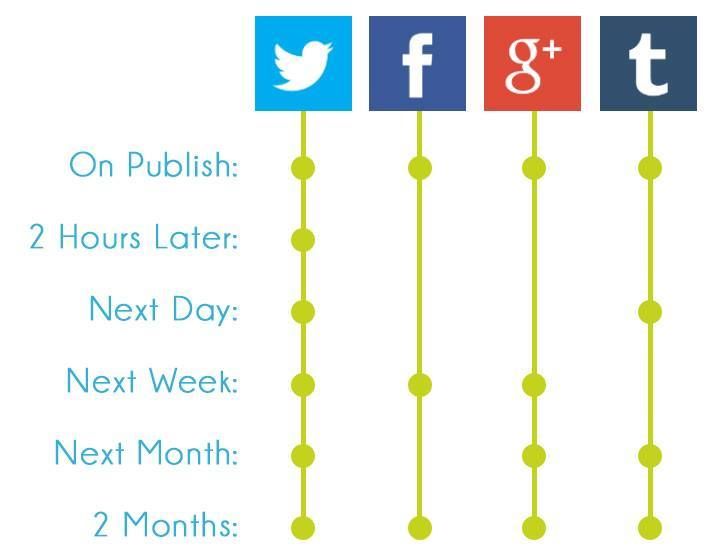 This is the rough guide that I follow, courtesy of Matthew Barby. I started sharing my posts more often on Facebook. At first, there were pretty much crickets, and that was painful. But I kept sharing, and every week, my posts gained more momentum. Facebook is sharing them with more of my readers, and more people are finding my content. Same with Pinterest. I became a bit more proactive in sharing (especially old posts, SO much traffic potential there) and the payoff is amazing.
Don't be afraid to sell yourself!
So what blogging crimes have you committed? Any of the above? Any not mentioned? 
---
Jessica Dimas is the creator of "The Successful Blogger's Ultimate Tool Kit". Follow along on Facebook and Instagram to stay updated with future posts.