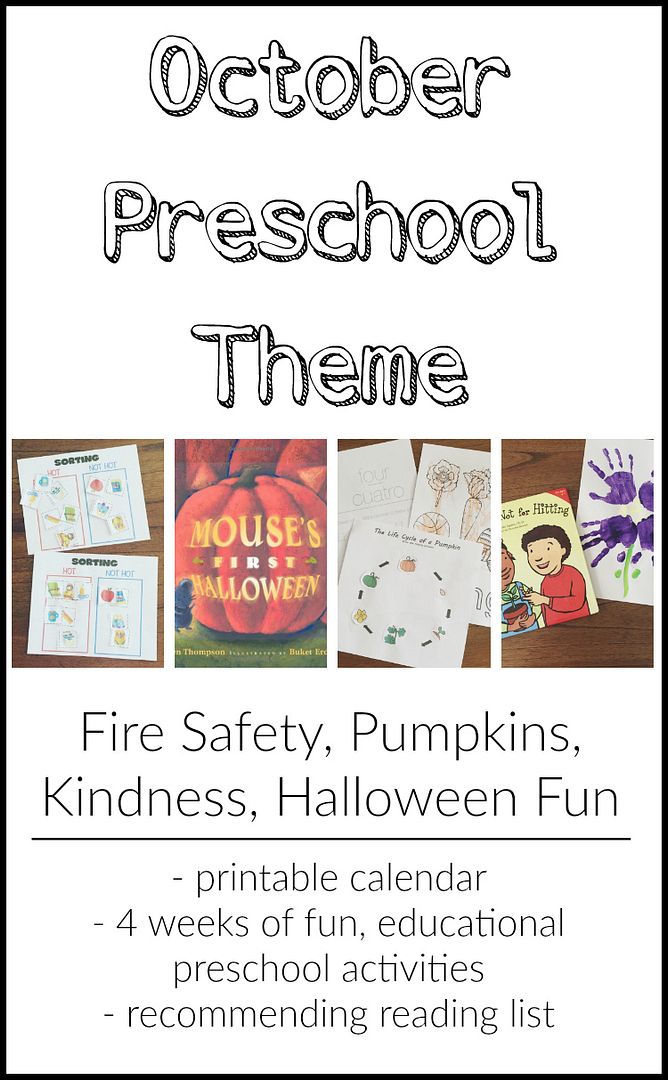 Here's our full October preschool schedule! My approach to home-preschooling my 4 and 2 year old (he's really just a tag-a-long) is one small activity a day, and lots of books to help explore our learning areas. My boys' attention spans just aren't that long right now, so one small thing a day is what works for us. You can also follow us on Instagram where I document our preschooling adventures!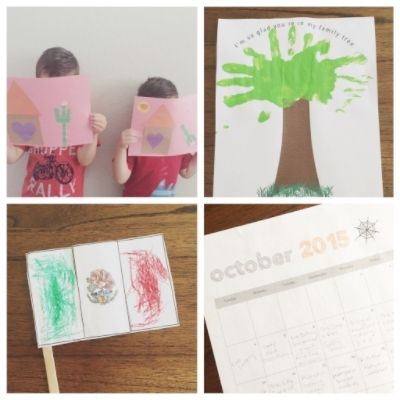 You can check out my preschool printables in my printables library. I also have 8 preschool binder planning printables over there as well.
---
Theme: Fall Fun
Things to explore: Fire Safety Prevention Week (4th-10th), Domestic Violence Awareness Month (talk about kindness, ways to handle anger, etc)
Celebrate: Wear purple day (DV awareness), Halloween
Numbers: 3, 4
Letters: P (pumpkin, purple), J (jack-o'-lantern)
Color: Orange
Shape: Square


---
Week 1 - Fire Safety Prevention Week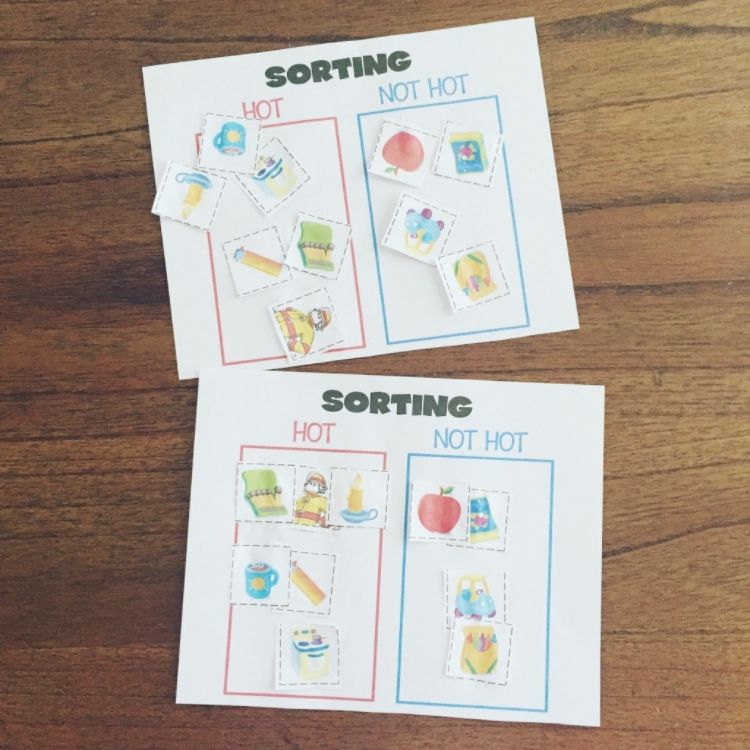 Monday: Fire Safety Hot/Cold Classification
Tuesday: Fire Safety Scavenger Hunt | At a Fire printable
Wednesday: Stop, Drop, & Roll | Watch fire safety videos
Thursday: Bilingual Number Tracing for the numbers 3 and 4
Friday: The Color Orange printable
Books to read: No Dragons for Tea (Fire Safety for Kids), The Fire Engine Book
---
Week 2 - Pumpkins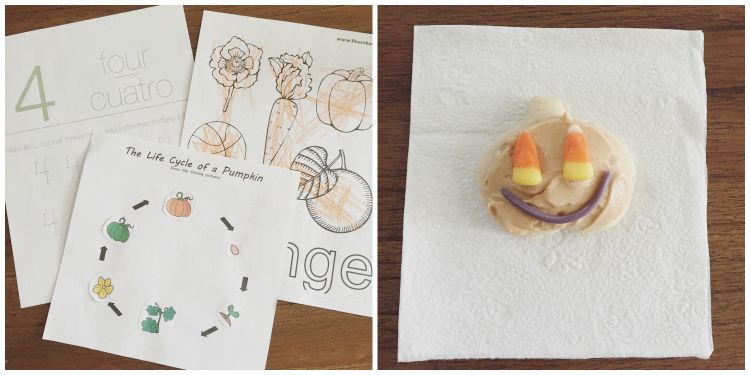 Monday: The Life Cycle of a Pumpkin Worksheet and this cute video that goes perfectly with it
Tuesday: Pumpkin Coloring Pages
Wednesday: Make pumpkin sugar cookies
Thursday: P is for Pumpkin Worksheet
Friday: Five Little Pumpkins Poem
Books to read: Apples and Pumpkins
---
Week 3 - Domestic Violence Awareness (Kindness)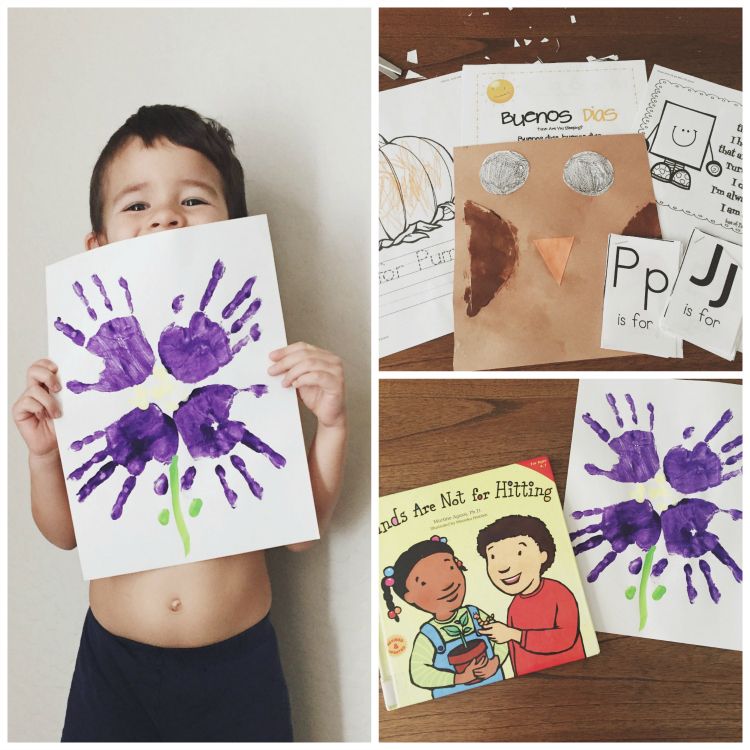 Some may find it strange that I'm adding domestic violence awareness to our preschool "areas to explore", but I really just saw it as a perfect opportunity to focus on being kind to one another and talking about handling our emotions in a safe and healthy way!
Monday: Spanish Color Matching Cards printable
Tuesday: Letters J and P mini-book coloring pages
Wednesday: Sing Spanish songs (Buenos Dias) & (Dias de la Semana) | Square Owl craft | Hang this printable of a square on the fridge
Thursday: Hands are for Helping craft (make purple flowers for #PurpleThursday DV awareness)
Friday: Build a Robot square craft
Books to read: Hands Are Not for Hitting (2-3 years), Hands Are Not for Hitting (4-7 years), Voices Are Not For Yelling, Words Are Not for Hurting (2-3 years), Words Are Not for Hurting (4-7 years), Cool Down and Work Through Anger, Respect: Dare to Care, Share, and Be Fair, Manners Time (Toddler Tools)
---
Week 4 - Halloween
Monday: Easy Pumpkin craft for scissor skills
Tuesday: Easy Spider Paper Plate Craft
Wednesday: Witches Hats
Thursday: Footprint Ghosts
Friday: Paper Plate Ghost
Books to read: Mouse's First Halloween, The Night Before Halloween, Bats at the Library
---