It's been a couple of months since I did one of these "day in the life" of a stay at home mom posts. I'm adding in BLOGGING to spice things up! I figured I would start this post at night since I go to bed around midnight and I wanted you guys to see that that's really when my day starts! Why? Because I have a 2 year old that wakes up like a newborn even though he is night weaned. Don't give me advice or I will back hand you. Also, don't judge me for what you're about to read. Celebrate me instead for being real on the internet and not pretending to be perfect for my blog's sake. Okay...shall we proceed?
11:33 PM - This is usually when I take my shower (photo on the left). I love putting that little wax burner light on because it's kind of like my "me time" to take a shower with soft lighting and just let myself decompress.
Right after, I jumped into bed with my tablet (I know, that's bad. But it's my only chance to read for the day). Tonight I read one blogging article that I've pinned on my blogging board, and then I read the last book on this list...suuuuch a good book, I'm telling you guys! I finally fall asleep not long after, some time around midnight.
Time Unknown - Dacky woke up. I told him no "mimis" (boob) and he cuddled up and went back to sleep.
Time Unknown - Dacky woke up. I told him no mimis and he cried a really hoarse, scary sounding cry. I checked him and he felt feverish. I whipped out the boob asap, my number one defense against the sickies. Felt bummed that I had to nurse him but I also wanted him to have breastmilk since he was feverish.
Time Unknown - Dacky woke up, sounding sick. Boob.
6:02 AM - Dacky woke up for the day. He woke his brother up for the day. They have WAY too much energy and run off into the living room, where Luis puts cartoons on for them. I fall back asleep.
6:16 AM - Pretty sure this is when Dacky came back for more boob. Whatever.
6:26 AM - People are yelling at me for food. There's no more granola bars to pawn off on the kids to keep them quiet for another hour, dang it. I pass out into sleepy delirium.
6:30 AM - I am jarred back awake by hungry children and fling myself out of bed.
6:36 AM - The house is at 68 degrees and that is just unacceptable for Phoenix, AZ standards. I turn it up to 69 degrees so I can function.
The kids are on the sofa and they even look tired themselves! WHY DO THEY INSIST ON WAKING UP AT UNGODLY HOURS BEFORE EVEN THEY ARE READY TO BE AWAKE? My husband left them in t-shirts and shorts the night before when he put them to bed, so I go get out their warmer pjs and change them.
6:44 AM - It's a cereal kind of morning for Piggie, and Dacky gets his usual cup of Kefir.
6:49 AM - Make coffee, stat. Scurry away back to my bed to see how much more down time I can steal while they are content with their food and my husband is still here getting ready for work.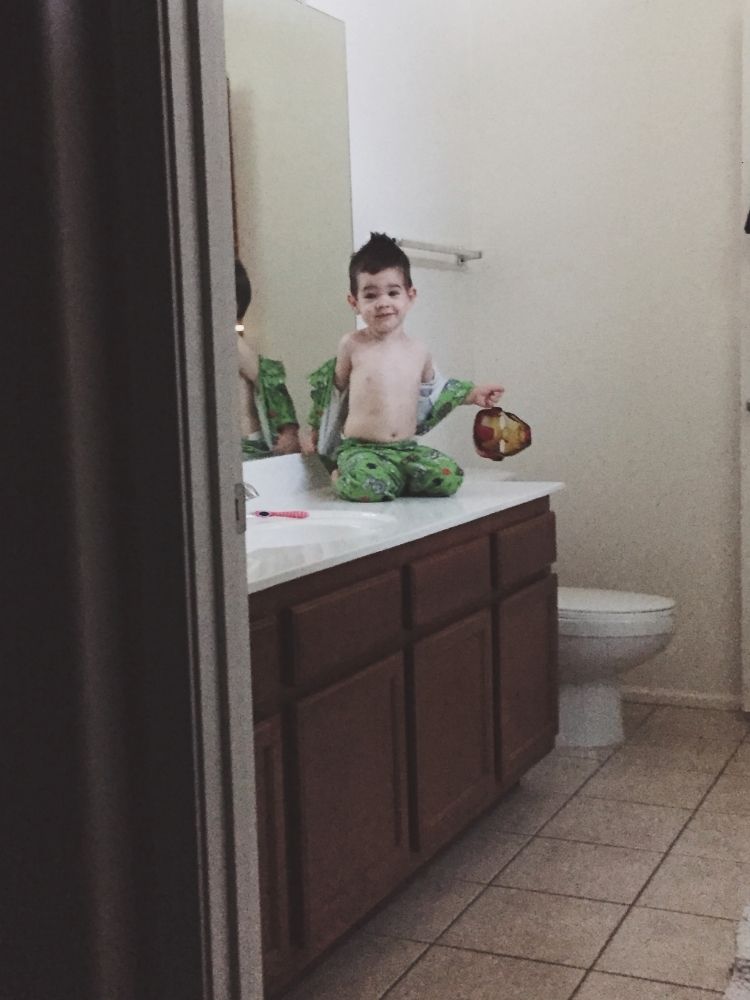 7:04 AM - 15 minutes of alone time in bed, that was pretty decent. And then Dacky climbed up on top of the bathroom counters by my bed and started undressing himself so that he conveniently couldn't get back down without almost killing himself. I get out of bed and put him down, and then attempt to get back in my warm bed.
A few minutes later both boys are standing on the counter, so I get up again to put them both down and stagger away for coffee.
7:19 AM - Coffee in hand: check. Children jumping off of sofas: check. Today, we're going to meet some friends at a farm by our house. I consider whether I should cancel since Dacky had a fever at night but is now acting completely normal. Plus, canceling over a suddenly sick child for some reason seems so fake. But for real, how to kids always get sick right when you have plans?
I go lay down in my bed and turn on Law & Order SVU. I don't normally do this but this morning feels off for some reason. I joke to my husband that I'm becoming a housewife that watches tv all day (I wish). He leaves for work and both boys come busting into my bedroom and jump in the bed with me. I try to watch my show in small increments while yelling at them that my coffee is very hot.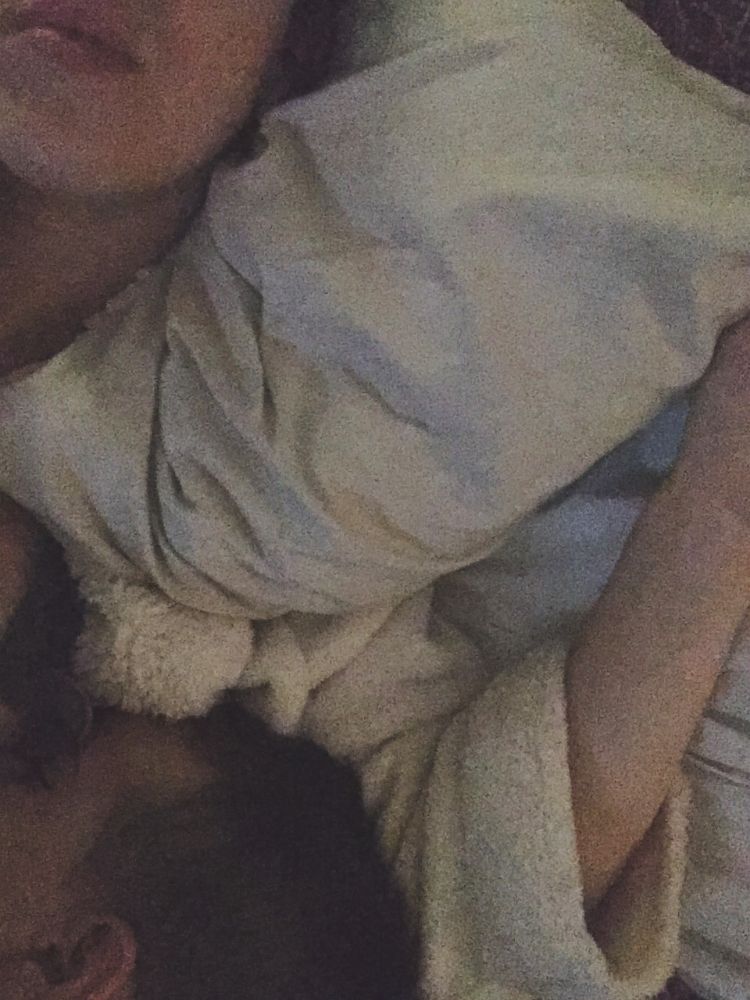 7:57 AM - Dacky wants to nurse and falls asleep! He usually never falls asleep for his nap until around 10-11AM, I don't know what's up with him but now I'm back to worrying that he may really be getting sick.
He sleeps for an hour and I actually fall asleep with him while Piggie plays on his tablet (thank the universe for tablets).
9:00 AM - Dacky wakes up and runs off. I still don't want to get out of bed...knowing that I have to go somewhere, even if I want to go, always makes me feel even more lethargic than I actually am. I can just put my hair in a bun, I tell myself.
9:20 AM - Okay, no more procrastinating. I get ready in about 10 or 15 minutes, get both boys dressed, find water cups, count diapers in the purse and make sure I have wipes. My friend texts and says she's running late - perfect! Stress is relieved. I get excited for Starbucks and it motivates me to push through the torture of getting the boys out of the house and into the car.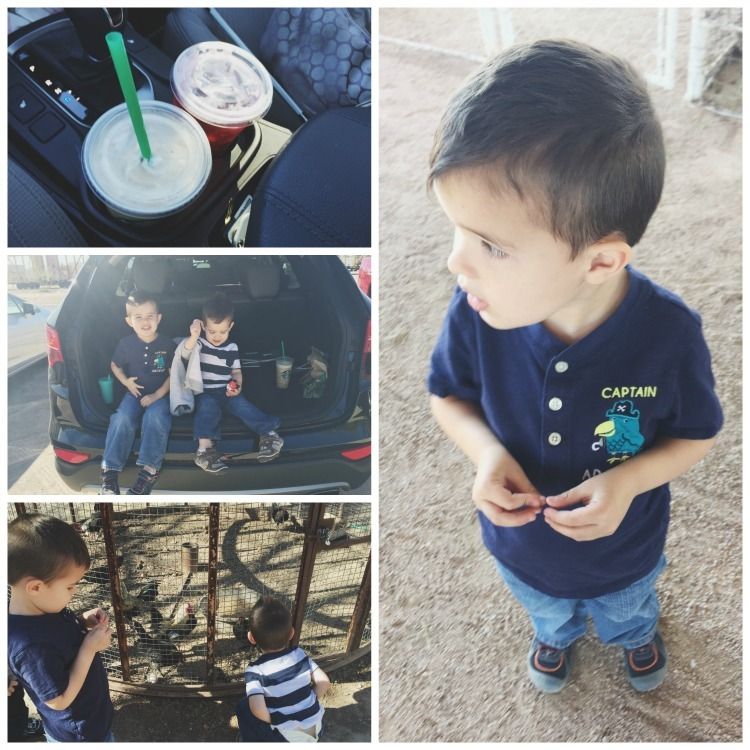 10:09 AM - We're finally on the road with Starbucks in tow! Woot! That coffee has never tasted better.
10:17 AM - Since our friends are still a few minutes away, I put the boys in the back of the car and feed them a breakfast sandwich, which they loved. Piggie asks one million, three hundred thousand, five hundred and sixty eight times where our friends are. I reply with the same answer: "not here yet."
Our friends arrive! I can't say for certain, but she kind of looks tortured like me. All the kids agree that they want to head over to see the animals first, on the other side of the farm.
10:41 AM - Chickens. Dacky is hardcore mesmerized; Piggie could care less.
10:52 AM - We make it over the goats, cows, sheep, and more chickens. My friend is putting in quarters to get goat food and I'm noticing Piggie getting dart-y eyes and holding his nose, complaining about something under his breath. My friend takes her two year old, my two year old, and her four year old into the goat pin and immediately I hear screams of terror from both of her children. Piggie bolts. I have to literally go into a full run to go catch him while I hear my friend in the background "Ohhh-kay, this isn't working..." while holding a screaming toddler with her screaming preschooler by her legs and a herd of goats surrounding them. Dacky is just wandering around, seemingly oblivious.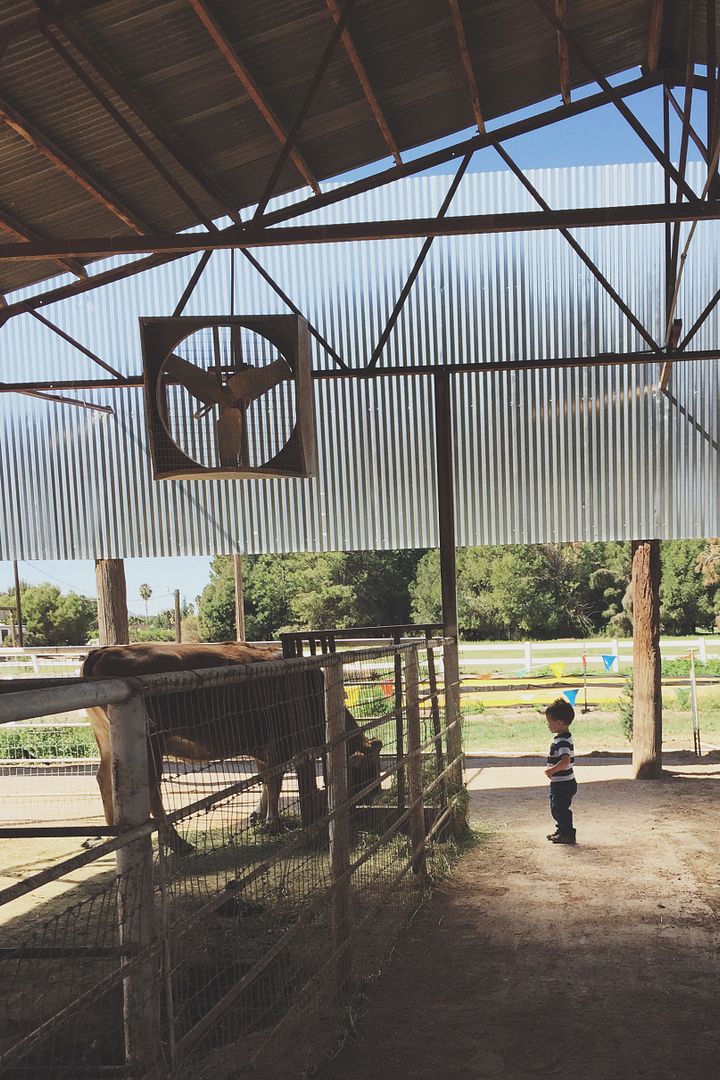 11:01 AM - Dacky would make a great farm boy. He's fascinated by all of the animals and I could easily see him harassing and torturing them once he got used to being around them.
11:07 AM - Playgrounds and some swinging!
11:38 AM - Train ride around the farm. It was a GORGEOUS day. In the sun it was a little hot but there was a cool breeze while riding the train so it offset the heat.
We get off the train and start heading towards the exit, but stop in the bakery. Piggie wants a cookie but there's a $10 minimum purchase for debit cards. I start looking around for something more to buy when Piggie informs me he has to poop. I put everything back and head towards the closest bathroom...which is closed. This older lady says "The bathrooms aren't closed, there's more right down there."
I look down a long dirt road that feels like 12 miles long as I hear Dacky in the background whining for boob. I had to think quick. I ask Piggie if he thinks he could hold his poop until he gets home and the old lady answers for him and says "Probably not," looking all concerned. In my head I say "Unless you want to walk half a mile down there and back with a whiney 2 year old quickly progressing into meltdown mode, be my guest!" I never promote holding but an impending crisis was on our hands. Piggie says he can hold it and we rush home, which is 5 minutes down the road.
12:15 PM - After bidding farewell to our friends, we get home. The kid on the left wants boob RIGHT NOW and the kid on the right needs to take a poop and someone to wipe him when he's done. You wouldn't think these things are highly stressful, but then you may not be a mom.
12:19 PM - I take Dacky to the bed to nurse him thinking he'll probably take a nap since he never took a real one earlier. While laying there, I notice my stats for my blog are super low and I check my site, which is running pretty slow. Damn it, I think I'm being capped by my webhost and need to look into switching over to a more expensive but better host.
Dacky lied and didn't fall asleep. We go back out into the living room where the boys inform me they're hungry. I make them some lunch from dinner leftovers the night before and get their plates set up. They then inform me they aren't hungry. In fact, they want to paint. I ignore them for awhile while I eat. They keep pestering me so I take a deep breath and clear the table to set up some paint for them. This all takes a super long time for some reason. Finally after they are painting, I do the dishes and start picking up around the house some.
1:58 PM - Meaning I take all of the toys from the living room and dump them in the playroom. Where are all their toys, you ask? In case you think the above doesn't look like much. 75% of their toys are put up in the closet because I can't deal with how much they drag out everyday.
1:59 PM - Because I'm a glutton for punishment, after I pick up their paint, I set playdoh out for them. I attempt to seize the moment and get out my planner and journal.
2:01 PM - Dacky wants boob again.
2:36 PM - More boob.
3:00 PM - I turn on Yo Gabba Gabba and give Dacky some kefir. I attempt in feeding Piggie again and again, he barely eats. He usually eats a ton. I escape off to the front room so that maybe if I'm out of sight out of mind, Dacky won't want to nurse again. I start editing photos for this post.
4:00 PM - He's nursing again. He's killing me today and I can feel myself getting agitated. Each time he nurses, it lasts around 10-15 minutes. So it's not much of a break at all between the times he's nursing. I try to remember that he's not feeling well and take deep breaths.
4:25 PM - LUIS IS HOME!!!!! Yayyyy!!!! He takes the boys away and I listen to a video on YouTube from a webhost I'm interested in while uploading the pics from my phone onto my computer.
5:46 PM - My husband is about to leave to go to the gym for the night and won't be back until 9PM. Yay. I decide to not make dinner since Luis won't be here. I put the boys in their pjs early and skip their bath even though they have farm germs all over them. The constant nursing has tired me out and irritated me too much. I want to keep things as easy as possible. And oh yeah...I'm nursing Dacky again.
6:12 PM - The boys are hungry so I make one of our favorite quick dinners: breakfast! I think it's just an excuse to give myself coffee. And eat bacon. The boys ask to sit on the counter to watch me cook and immediately don't watch me cook but instead get into everything else. Typical!
6:27 PM - They clear their plates. I would've cut up fruit for them too but they had just eaten nectarines. One less thing I had to do! I finish doing the dishes and wiping down the counters. I turn off all the lights and brush their teeth. They hang out and watch cartoons until closer to bedtime.
6:43 PM - I have a short conversation online with one of my favorite blogging buddies, The Deliberate Mom. We talk almost every day; more like I frequently harass her. I'm sure she wishes she could find a way to kindly get rid of me, but she's too nice for that.
7:01 PM - Dacky has been nursing on and off. I notice he's starting to get more sleepy so I turn off the TV and me and boys head for the bedroom.
I piss off Piggie's soul for switching up the sleeping arrangement. Normally, it goes Piggie, me, and then Dacky. But since Dacky had killed my left boob, I wanted to switch him to the other side. Piggie couldn't accept this and kept kicking and whining, flopping around in the bed in silent protest while trying to hold in his rage that he wasn't on the correct side of the bed. Lord help my soul. I switch the boys and minor peace is restored after Piggie dramatically weeps over the ordeal, calls out for Luis and tells me he doesn't love me anymore. Finally they both fall asleep.
8:16 PM - I come back out to the living room and sit down to continue working on this post. I get majorly sidetracked by some dress on Facebook that everyone is seeing in different colors. It haunts me because I see white and gold and can't see it any other way. I turn my phone all different ways, try to focus on different colors...it's still white and gold.
9:00 PM - Luis comes back home and says he feels a weird vibe from me. I'm like "yeah, I just want to be left alone and not be needed by anyone." He calls me psycho. Yes...that's definitely what the boys did to me today, especially with the constant nursing and the wanting of food and then not wanting of food, etc.
I talk to Luis off and on, eat some more food since I didn't eat much at dinner, and show Luis the dress. He sees blue and black! He then calls me inferior and thinks he's more evolved because he's seeing the correct colors.
11:30 PM - I finally finish my post. The plan now is to go take a shower and then read. Restart back at the top. Except I hope Dacky isn't quite so boob attached tomorrow. We have plans to go to my mom's house and she's going to take them to the park to feed ducks. Hopefully Dacky feels better so we can go! If all goes as planned, while they're at the park, I'll be at the library writing!