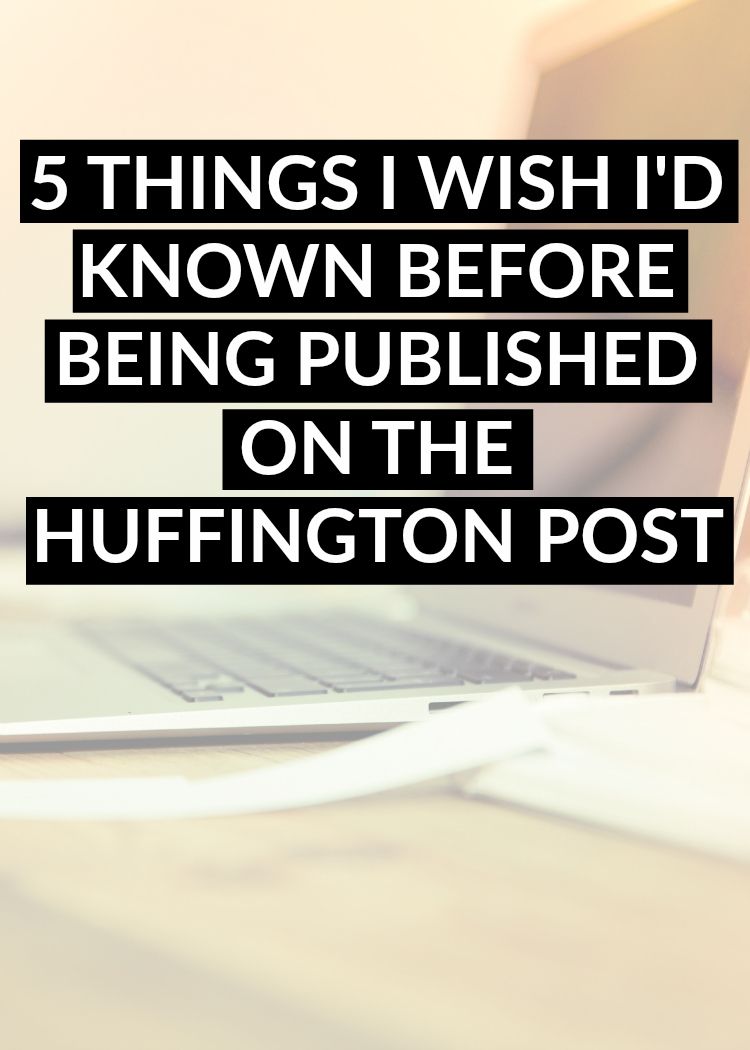 I know that when I finally got a piece accepted by The Huffington Post, I was frantically searching around the internet for answers or experience from other HuffPo bloggers. I found a few things here and there, but hardly.
Well I'm here to hopefully help anyone who was in my position or for anyone in general who is considering being published on HuffPo. Here's a few things that I wish I would've known beforehand!
1. You get your own account. 
It didn't occur to me right away, even after I'd made up a username and password, that this was my Huffington Post blogger account. And then I saw something like this in my blogger's guidelines section: "post if and when you want; you are the boss." Say whaaaat?! A voice with a bad New York accent in my head took over and was like "So you're tellin' me, that if I get accepted once, it's done. I'm in foreva?"
Yes, that's what I'm saying.

2. It may take forever to publish. 

If you're anything like me, you will screenshot the submission acceptance email from Huffington and post it to all of your social media sites, you will make all the phone calls to everyone you know and have hour long conversations explaining what Huffington is to your mother, and you may or may not ask your husband if he wants your autograph.
You will submit everything with shaky, sweaty hands and then wait. Every morning you will immediately check your email to find nothing from Huffington. You will check your archive and will get an error page that says "OH NOES!!! SOMETHING WENT WRONG!" Your post will sit there, untouched. You will think the universe has played a cruel, cruel joke and you'll try to convince yourself that it doesn't matter if they don't post it (oh but you know it freakin matters!).

You will finally harass the editors and they will write you back and kindly tell you that it's in queue (or that they loved it so much they're holding it for feature, true story).
Relax and stay near a toilet if anxiety tends to get the best of your stomach. They will publish it.
3. Link back to your blog. 

Huffington will link back to your Twitter, but beyond that it is up to you to link back to your blog. I know this may sound like common sense, but I thought it would automatically be done for me. Which is kind of idiotic, because why would the super busy Huffington Post editors have time to flit about the interwebs getting links and inserting them into each submission they receive, on top of all the editing and tagging they have to do?
Besides linking back to other posts from your blog in your article (if you have any), at the bottom always put This article was previously published on ___________. Follow ___________'s Facebook for more updates." Or something like that.
I didn't do this on my first post, which actually I'm glad because I got a lot of haters and I've seen haters travel to the blogger's personal site just to spew their vile thoughts, so I thankfully avoided that. But on my second (and super sappy and happy post) I linked my blog and Facebook at the bottom; the traffic was unreal and my Facebook gained several hundred new followers.
4. Your post may take on a life of it's own.

My first post was a featured post, meaning Huffington placed it in plain view and promoted it, and it gained around 3,000 likes over the course of a few days.
My second post, You Won't Remember But I Will, was something I submitted in December kind of as a test post to see if Huffington really would publish it (I was still in disbelief that I had a freakin HuffPo account). They published it a few days later, it gained around 300 likes total after a few days, and I didn't check it again.
Someway...somewhere...somehow...someone shared it and it gained momentum. I started getting all these Facebook likes and I was like "Ha! The Facebook algorithms aren't affecting me, must be my awesome manifesting powers!". And then I started to get a lot of traffic back to my blog and people started leaving comments about that specific post. When I went back to check it on Huffington, I watched it literally go viral. Once it got to around 80,000 likes, Huffington shared it and they moved it to the top article spot in the parenting section. Last count it had half a million likes and over 100,000 shares...moral of the story...anything can happen on HuffPo, even if HuffPo themselves didn't see it coming!
5. Have your blog ready. 

Get your top posts together and post them somewhere, either in your sidebar or in your About Me section or at the bottom of the post that the Huffington readers will be coming to. Get social media buttons put specifically below that post if you don't already have them there and make sure you have a box for them to subscribe to your blog in close reach as well.
They will go to your About Me page, so spruce it up. Make sure that it says exactly what you want them to know...remember, they're deciding on if they want to read your blog or not. They want to know if they can relate to the person behind the post. Give it some extra attention so they can get a clear picture of what you are all about!
I hope these tips helped you out! If you have more specific questions, please ask in the comments below and I will try to help you out! Also read my 3 tips for getting onto the Huffington Post, several bloggers have contacted me to let me know they were accepted after following the same thing I did!