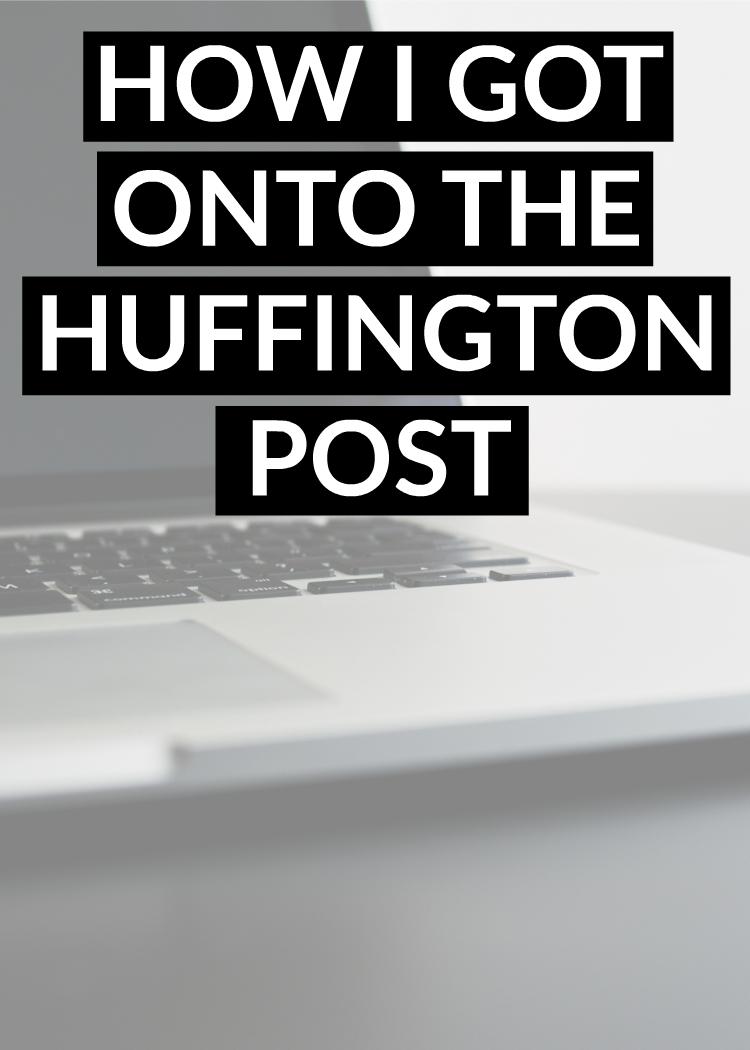 Hi and welcome to my little section of the Better Blogging blog tour! I'm going to be sharing my experience and shedding some light on how I became a Huffington Post blogger for those of you interested in doing the same. (Update: I've had numerous bloggers contact me to let me know they were accepted onto the Huffpo blogging team after following my advice)!
A few weeks ago I shared things I wish I'd known before being published on The Huffington Post, and today I'll share the process of how I submitted my first piece and how I wrote my submission email.
1. Where to submit
I personally learned (from an article that I can't find now, please leave the link below if you know which one I'm referring to!) that you can find the emails of editors in their Twitter profiles. I looked up the names of the HuffPost Parents editors and found a few on Twitter, compete with their emails right below their names! I picked one of them and emailed my pitch to her.
There's an awesome podcast interview with Senior Editor Emma Mustich from HuffPost Parents on Beyond Your Blog. On there, she basically says they receive submissions from various places and even on social media platforms. I recommend listening to this podcast because it's full of super useful info. Emma says in the interview that the preferred email for receiving submissions for the parenting section is parents@huffingtonpost.com
2. Formatting the email

In my subject line, I put the title of my post: What If We Didn't Sexually Shame Our Daughters. I couldn't think of a better subject title and I thought that might get their attention.
Inside my email, I basically wrote something like this:
Dear Editor,

I wrote an article on my blog that I think would be a great fit for your site. It's about the sexual shaming of girls and it's effect on their lives. Here is an excerpt:

"Our culture sends very conflicting messages to girls. They are pure until they aren't. They are so much more than what their bodies offer, but they aren't. Their bodies aren't good enough, but they cause men to fall. It's okay to look sexy but not to actually have sex. What we tell our daughters about sexuality, and more importantly how we make them feel about it, will stay with them their entire lives."

Thank you so much for taking the time to consider my post, I hope to hear back from you soon.

Sincerely,
Jessica Dimas
- Profile photo
- Link to original article
- Article copied and pasted in full
I wasn't sure how much they would need, but I wanted to make sure they had everything so they wouldn't have to do a bunch of clicking around or back and forth emailing. And if you noticed, I kept my pitch short and sweet. I didn't want to overwhelm them with lots of writing and this way they could get the gist of my article quickly and then read further if they were interested.


3. The Wait

The wait time on hearing back from them varies, as anyone could assume. In this particular instance, I heard back within twelve hours. I sent it probably around 10PM and when I woke up at 7AM there was an email. The first time I submitted a piece to them, I never heard back. My advice is to just keep trying until they respond! I would go as far as to say expect an email back from them! Get excited, know it's going to happen, and put that energy out there!
You have nothing to lose!
Make sure to continue on to one of these amazing blogs for more blogging tips and tricks: