This shop has been compensated by Collective Bias, Inc. and its advertiser.
All opinions are mine alone. #PilotYourLife #CollectiveBias
Even though I'm taking a child-led homeschooling approach where my kids choose their subjects rather than me, I'm still a huge planner addict and like to see our schedule outlined on a calendar.
There is nothing I love more than a pretty planner, a fresh calendar, and some colored pens. It always makes me think of the Step Brother movie quote "There's so much more room for activities!"
I also have zero memory capacity since having kids. I've legit-no-lie skipped two dentist appointments this month because I didn't remember. And if a friend hadn't have Facebook messaged me the night before our play date the following morning, me and my kids would not have been there. Please tell me I'm not the only one!
Two of my favorite times of the year are August and December because I get to shop for planners and pens. I went to Target this past weekend and picked up some goodies in their school and office supplies section.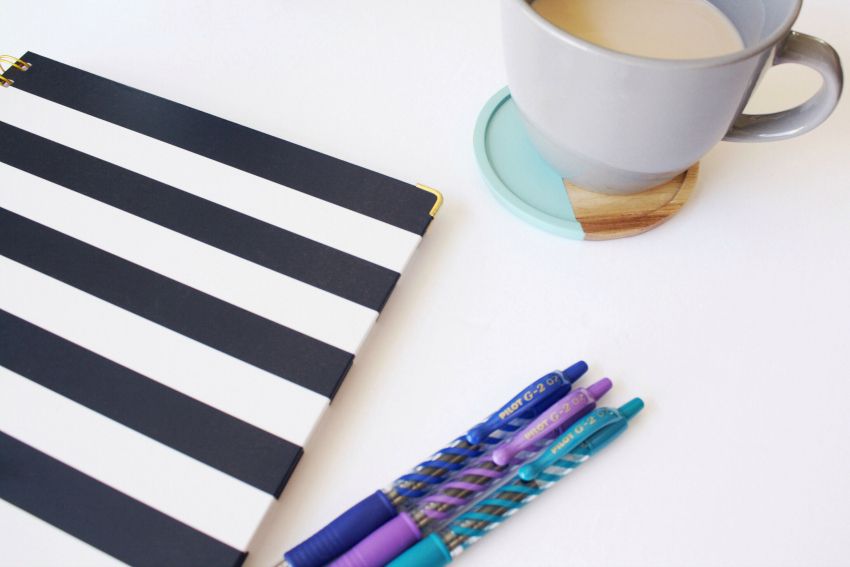 Here's how I plan out our month:
1. Layout what I need to plan
The things I plan out every month are:
Homeschool related activities
Playdates, events and trips
Blogging tasks
Appointments
I assign each category with a different colored pen. The ones I can't forget I put in red, which are appointments and blogging task due dates.
I use blue for homeschool related activities, green for outings, and purple for blogging tasks. I love the Pilot G2 pens because of the 15 different pretty colors they come in and most importantly, the smooth gel ink and the grip on the pen. They also last longer than any other gel brand. You can get a coupon here to save $0.75 on any one four-pack or larger of gel ink pens.
These write fantastically as well in cursive for journal writing, I highly recommend them.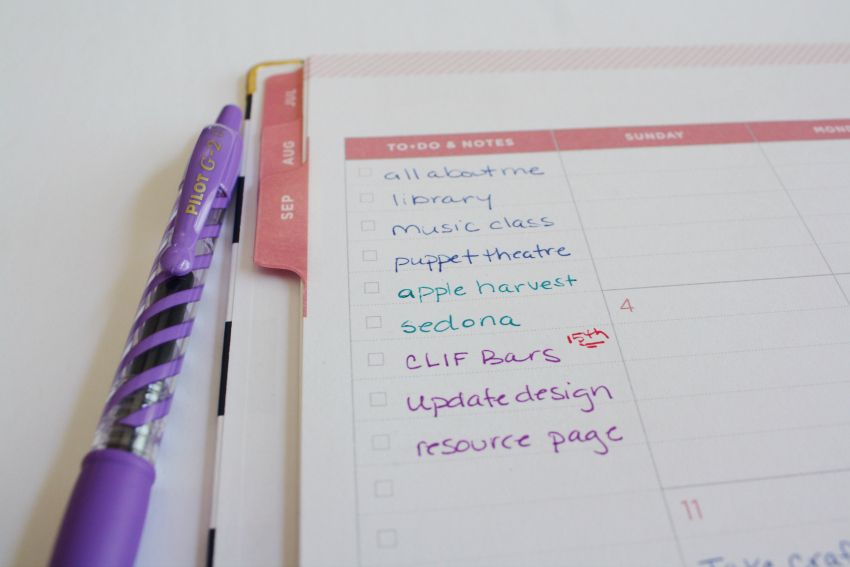 2. Start with most important and work down
I start with our homeschooling activities because those are the most important. We have music class every Monday morning and usually the library every Tuesday morning. I then fill in special homeschool activities we'll be doing for the month, like this month we'll be going to a puppet theater in Phoenix.
If I followed a traditional homeschooling schedule, I would look at the next few weeks and write in our assignments for each day or week. Every morning I ask my boys what they want to do for homeschool that day, and we spend the next hour or two doing activities they pick out of their curriculum.
Newbie observation: I've noticed that since we're on a more unschooling path for now, that it can be easy to schedule in other things during our homeschool time because homeschool time for us just feels more like playing. It's important that I block out 2-3 hours every morning where I don't look at my phone or take phone calls.
Once I have all of our important, non-negotiable activities down, I fill in the rest of my calendar around those dates.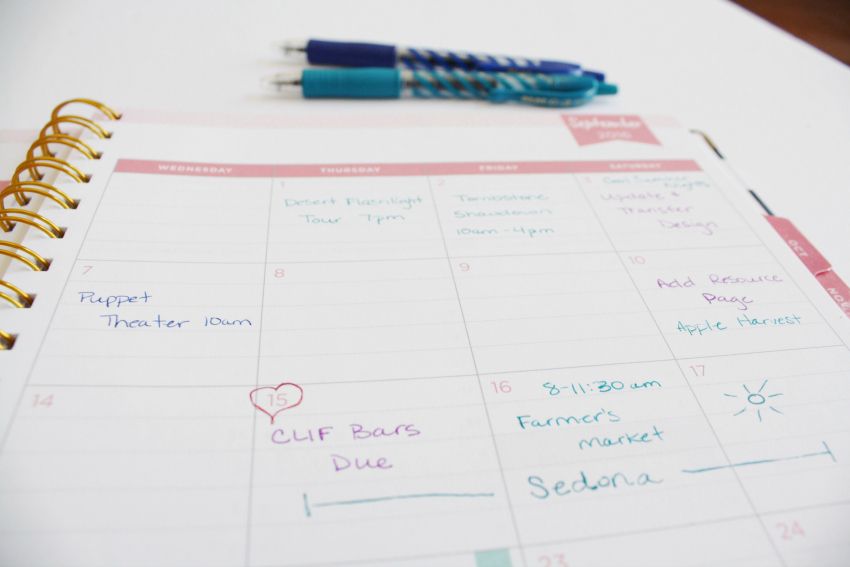 3. Write down daily goals and tasks
Once I have my calendar filled out, I like to write out a few things every morning so that I can remember what it is I want to accomplish for the day and to make sure there's nothing I'm forgetting (like music class!!!).
Every morning I write down my top 3 goals for the day, 3 things I'm grateful for, any extra tasks for me or the boys, and I like to write down what we're going to be eating so I can plan ahead for that too.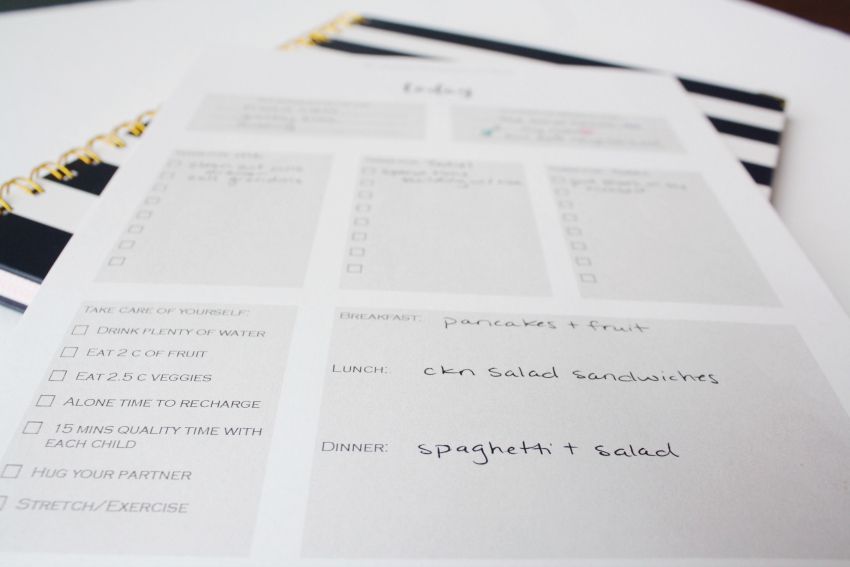 For me, it makes a huge difference in my day if I write down a few things I want to accomplish for that day. I'm not a stickler to my schedule, but I know there is power in writing things down and somehow they get done because I'm usually inspired to do them if I write them down.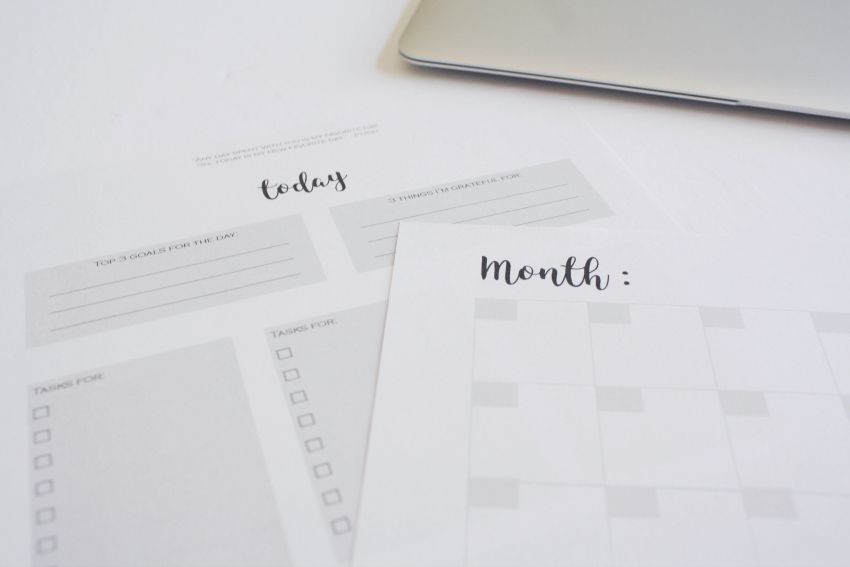 I created these two free printables and they're in the subscriber library. The first is simply a blank calendar, and the second one is a daily planner. It has a section for your top 3 goals, 3 things you're grateful for, 3 task columns for your or children, a self-care checklist for mom, and a section to plan out your breakfast, lunch and dinner.
So that's my simple process for planning out our homeschool month. I like to keep everything simple, including our schedule 🙂 How do you plan out your month?