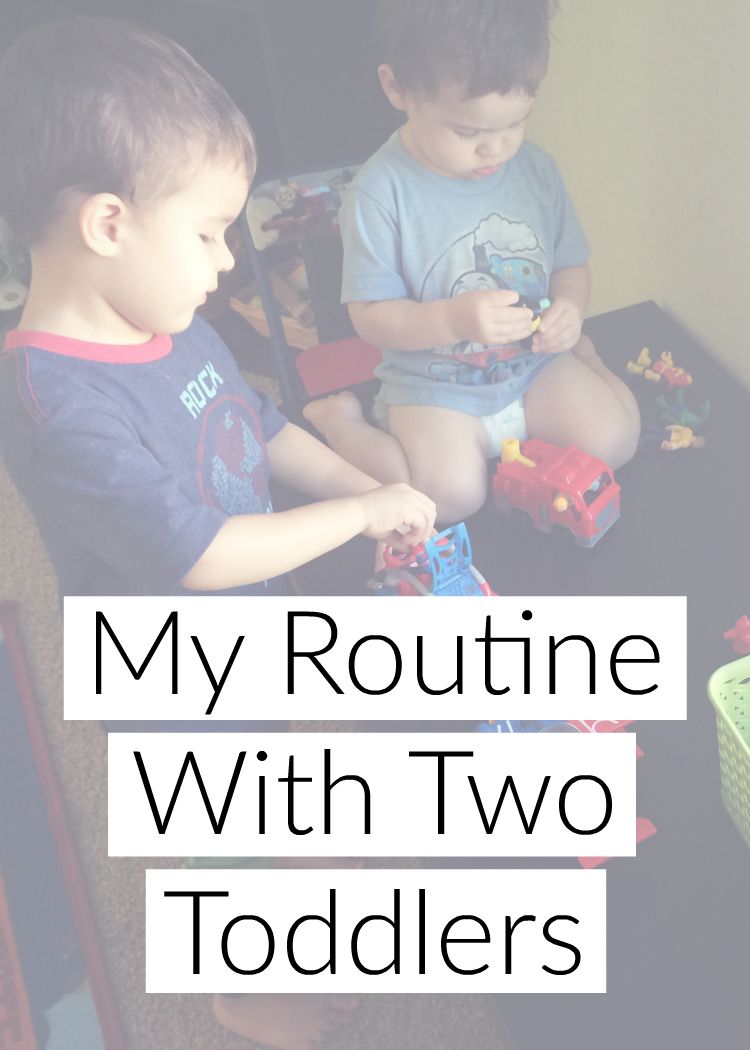 I haven't done an updated routine since Dacky was an infant and Piggie was around two. Now Dacky is 20 months old and Piggie is three and a half. Can I just say....life is
much
 easier than it was just over a year ago.I've never been a watch-the-clock kind of routine gal, I just let my boys settle into their own routine and we all flow with that. But most toddlers and preschoolers do appreciate some kind of structure and knowing what their day is going to look like, so we do follow a pretty consistent pattern every day.Here is my routine with a 1 ½ and a 3 ½ year old:
6-7:30 - Dacky usually starts the wake-up train, and Piggie follows him not long after. My husband gets up with them and watches them while he gets ready for work. I am in the process of night weaning Dacky, but he nurses all night like a newborn so for that reason, it is agreed upon that I get to sleep in somewhat.
7:30am - I can no longer ignore the whining and calling for food, or the blatant "Mommy, wake up!!" being yelled in my face, so I force myself out of bed, brush my teeth, splash water on my tired face, and hobble out to the kitchen to immediately make coffee. My husband leaves for work.
I make them breakfast, usually something like eggs, bacon, and fruit. Then I'll try to sneak my own breakfast in without alerting them that I'm attempting to do something for myself. If they do notice, they eat half my breakfast as well. And also force me to neglect my coffee until it's cold.
7:45/8:00am - The boys will go play outside in our backyard. I can see them from the kitchen and the living room, so I love this.
8:00-11am - Usually the boys just play outside or inside or they'll watch cartoons, play on the tablet, etc. I don't even know what I do...sometimes I pick up, do laundry, organize something, blog, sit on the couch and do nothing...I feel like I do nothing but I feel like I have no time to myself, so I'm really just fetching water, snacks, lost toys, etc. This is also when I may do a craft or preschool activity with Pigge.
11:00am - Dacky starts getting sleepy so we'll sit on the couch and he'll nurse. Sometimes I'll leave him on the couch to nap because he seems to nap longer when there's noise around. He naps for about two hours.
11:00-1:00pm - During Dacky's nap, Piggie likes to play with play dough because when Dacky is awake, he eats it and therefore it's been banned during his waking hours. When he's done playing with that, he'll usually do something else quiet like watch a show.
1:00pm - Dacky wakes up. If I haven't already made Piggie lunch, I'll make lunch for them now. Usually it's chicken or a pb&j with veggies and some fruit.
1:00-4:00pm - The boys continue doing what they do best...playing around the house, wandering outside, wrestling each other, playing with the dog, harrassing me etc.
4:00-7:00pm - I start dinner and start picking up the house. We eat dinner and then I clean up the kitchen, pick up the main living areas, go through the house and collect trash, laundry, scattered toys, etc. I vacuum the tile in the kitchen and then I vacuum the living room and hallway. After that I have to go over to the boys and pretend to suction them up with the vacuum hose.
7:00-8:30 - After the house is picked up and dinner is put away, I put the boys in the bath if they need one, and then most of the lights are turned off in the house. I'll put on a movie like Frozen. Piggie always requires a snack, so I'll usually give him rolled up deli ham slices, cheese, strawberries, and sliced apples. Dacky just eats some strawberries. They both usually fall asleep by 8, with one of them sometimes lingering until 8:30. Cue the "haaaallelujah" chorus.
And that's it! Our weather is getting nicer so we'll be adding the park into our routine soon. But we're just really laid back. Some days we go to play dates or go visit one of the grandma's, or out to the bookstore, etc, but we all like to be at home. I can tell the boys love to do their favorite things around the house every day. Or maybe I like to be at home...I'm more sane and feel more in control of their antics and emotions at home. Not totally sure which it is, but anyway, that's our day!