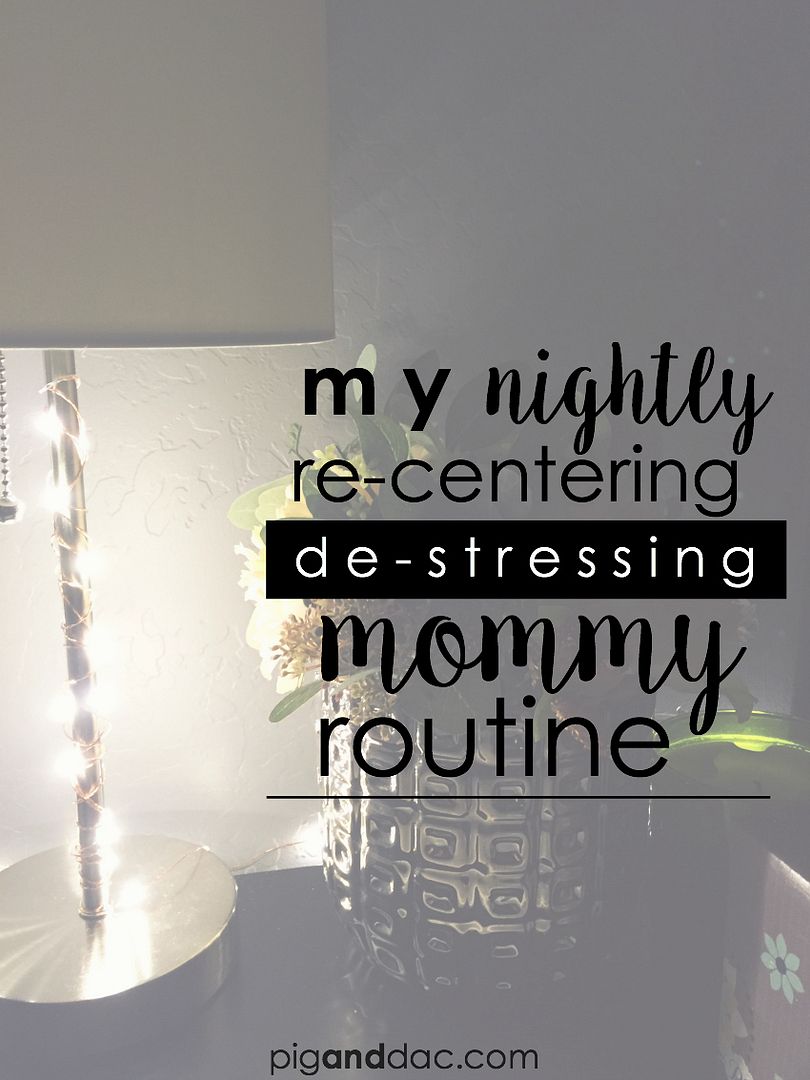 Every mom should have a nightly routine that helps her relax, re-center, and de-stress. Moms give all day long; this is your time to give back to yourself.
I am a huge advocate for real, daily self-care; especially for moms because we give so much to those around us, we need to replenish the well at some point in the day. It doesn't even have to be at the end of the day, it can be whenever it's best and most convenient for you to fit it in.
The best time for me is at night, so I'm going to share my nightly routine with you. My goals during this time are to de-stress and re-center.
Part One: The Shower
Low lighting - firstly, I find it very soothing and destimulating to have low lighting while I shower. Spending the day with two little kids is usually nonstop loudness, so a silent space with low lighting just helps me de-frazzle and relax! I use something similar to this, it's actually a wax burner but I find the lighting is perfect for a bathroom. I usually don't burn any wax but I just turn the light on while showering.
Oil pulling - I do this every night while showering. Oil pulling is swishing oil (I use this coconut oil) around in your mouth for up to 20 minutes. Oil pulling helps break down plaque, is good for gum health, and is a natural teeth whitener. My teeth no longer feel clean unless I've oil pulled before brushing them. It was hard to swish for very long at first, and it was also kind of hard to even chew up the coconut oil in my mouth (it's in more solid form unless it's placed somewhere warm), but now it's really easy for me. I go into a bit more detail about oil pulling in my book about sacred self-care, but basically it's a great way to detox your mouth and body.
Inspiring audio - I love to listen to something inspiring while showering. It gets me out of my own head and helps me re-center, plus it inspires me! Currently I've been on an Esther/Abraham Hicks kick. Esther Hicks "channels" a collective spirit she calls Abraham (very strange to some, I know) and talks a lot about how our thoughts and feelings affect our lives. I think it's helpful to listen to anything that relaxes, inspires, or motivates you. Anything to get you out of your own head and to a place of re-centering.
Visualization - If I've had a particularly long day, I like to envision the shower washing away all the stress and mistakes I made. And every night no matter what, I like to take several deep breaths. We forget to really breathe so much of the day. Did you know that we are designed to release 70% of the toxins in our body through breathing? "When you exhale air from your body you release carbon dioxide that has been passed through from your bloodstream into your lungs. Carbon dioxide is a natural waste of your body's metabolism." - (source) Check out all of these benefits of deep breathing, like releasing tension, pain, emotional problems, and strengthening your immune system.
I also do some basic stretching in the shower, just reaching down and touching my toes and rolling back up. It always relaxes my mind and body after I've taken some deep breaths and stretched a little bit.
Part Two: In Bed
Low lighting - I keep the theme of low lighting going! I really can't stand overhead lighting, especially once I'm in a more relaxed, sleepy state. I bought these LED dimmable string lights and these little decorating hooks and hung them up around my bed and then wrapped them around my lamp base, which turned out so pretty! It's a bit hard to see but here's a pic: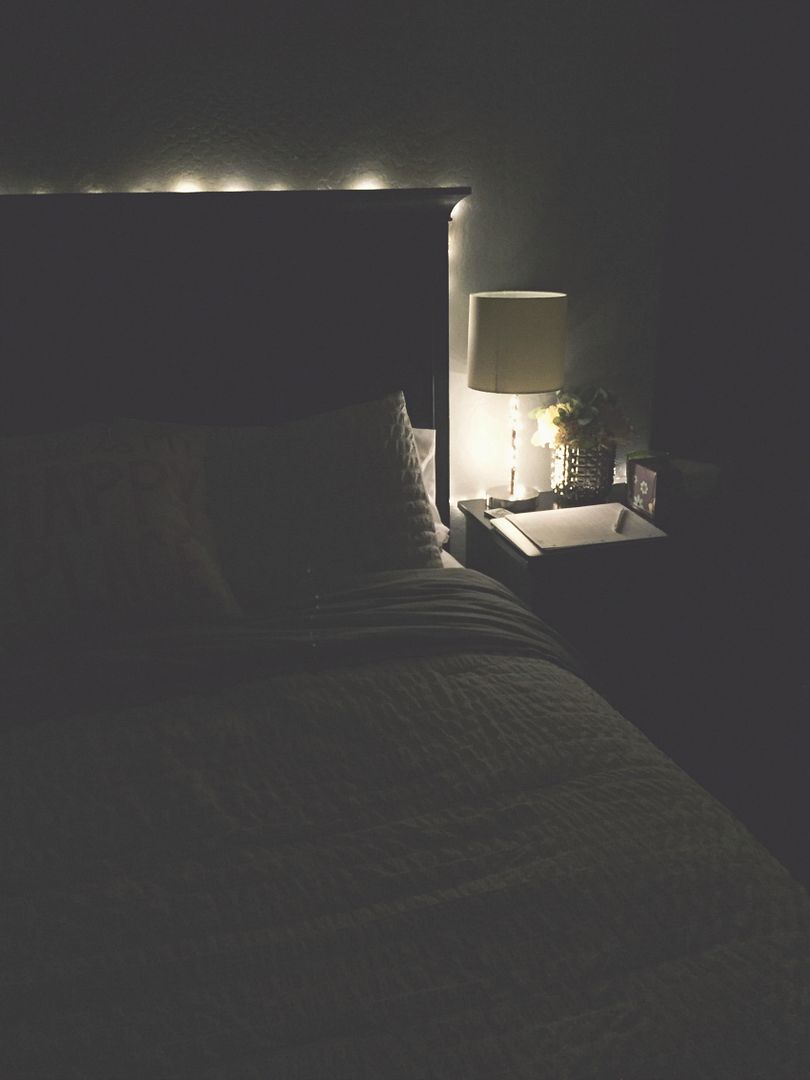 Journaling/Goals check-in - I think it's so important to check in with yourself on a daily basis. I will usually journal if I'm feeling conflicted about something, or I'll fill out one of the worksheets from my law of attraction book, or I'll simply write a few notes down in my planner. When things are written down, it helps us to feel like things are sorted out so we can go to sleep peacefully.
Reading - I love to read a few pages every night out of an inspirational book. I feel like books that help us grow are so beneficial and to me they're like air, but reading books of any kind have proven benefits of relaxation. A few really good books I've recently read are Goddesses Never Age: The Secret Prescription for Radiance, Vitality, and Well-Being | The Manifestation Mindset | You Can Heal Your Life | and The Big Leap: Conquer Your Hidden Fear and Take Life to the Next Level.
Meditation - I am OBSESSED with guided meditations! Oh my lord do they ever relax and re-center me. I most often use this one by Vishen Lakhiani. It's 21 minutes long and a lot of times I fall asleep before it's over, but it's the BEST guided meditation. It goes over everything we should go over in our minds every single day; connection with all that is, gratitude, forgiveness, creative visualization, intention for the next day, and asking for a blessing from the Universe/God/your higher self/whoever or whatever you believe in.
I recently found these amazing mediations for moms by The Parenting Junkie, and wow are they powerful. There is one for trusting your child, one for a hard parenting day (very therapeutic) and even one for visiting your own childhood (extremely therapeutic).
So that's my nightly "mommy" routine that relaxes and re-centers me like nothing else can. If you have a nightly routine, what are you favorite parts about it? What really helps you de-stress and let go at the end of the day? If you're not getting this time at least once a day, I really encourage you to start. You will not believe the world of difference it will make. And most importantly of all, you deserve it. Mothers can't give their best if they aren't giving to themselves first <3
---
Jessica Dimas is the author of the book "Sacred Self-Care for the Highly Sensitive Mom." Follow along on Facebook and Instagram to stay updated with future posts.