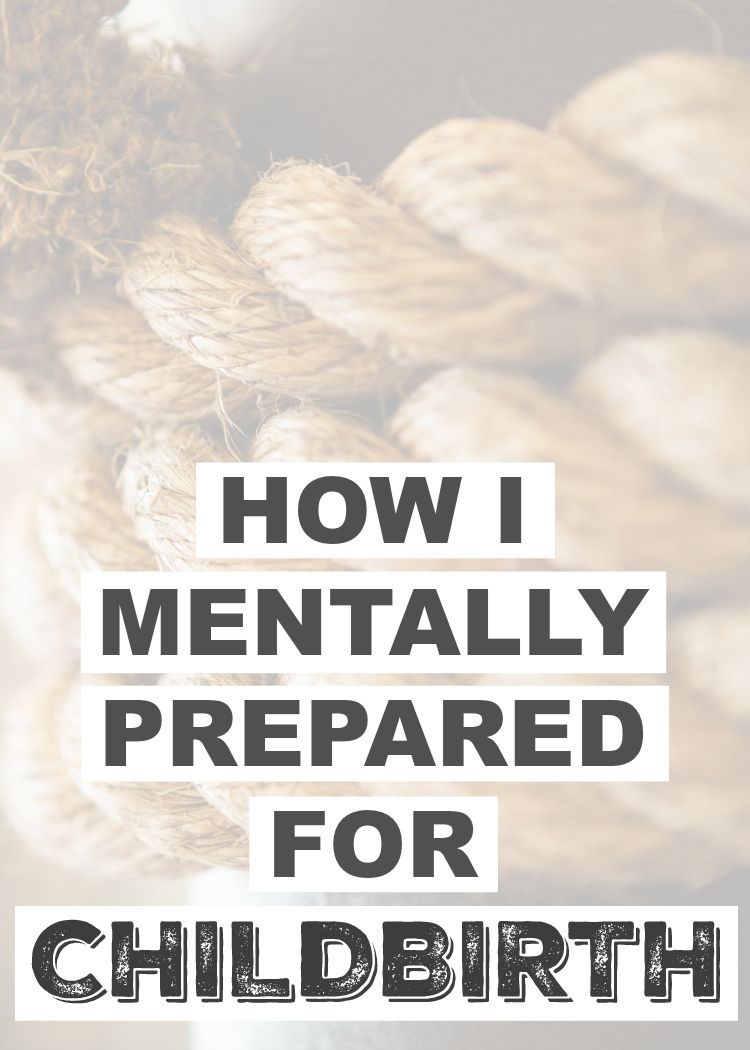 Our society looooves to scares us when it comes to childbirth. If you want to hear the worst possible birth stories from random strangers, just go out in public pregnant. And if you want to hear morbid birth stories, throw in there that you're having a med-free birth or home birth. That'll really get 'em riled up and overflowing with horror stories for ya.
"Med-free? Har har har...yeah you'll be singing a different tune once those contractions start."
"A home birth? My aunt Sally's friend's second cousin's daughter tried to have a home birth and she lost the baby. I just don't understand why people take that kind of risk..."
I heard these daily when I was pregnant with my first. I can't really recall even one encouraging story from anyone besides my midwife and from the books I read. I quickly realized I needed to be my #1 believer. So here is what I did to mentally prepare myself for both of my births:


Learned about the birth process 
Things can be scary or overwhelming when we don't know what to expect. Some people may think the birthing process is fairly simply - contractions, dilation, baby, done. But it actually really helped me to know how the uterus contracts, the stages that happen before the baby comes, and what I could do to help the process along. Once I knew what my body and baby were going to do, I felt less scared and more prepared.
Read encouraging material
This was
really
helpful for me. I heard horror stories from everyone around me, so I started tuning them out, not letting my mind even go there, and instead focused only on positive birthing stories and birthing quotes.
I shared my favorite birthing quotes
 the last time I was pregnant. I read
Ina May Gaskin's Guide to Childbirth
about three or four times the first time I was pregnant, and again the second time. The first half of the book is full of positive birth stories, and the second half Ina explains the birthing process and talks about common interventions. In my third trimester with Pig, I carried around a paper that had positive birth quotes on it and I read it daily.
Listened to bad ass songs
You are going to be a badass when you give birth, so it's only fitting that you listen to songs that make you feel like one ahead of time. I like to see myself like a fighter going into the ring where I'm going to face birth head-on and take that bad boy down!
Visualized the birth I wanted
Another popular phrase that was constantly uttered to me during pregnancy was "birth plans are a waste of time because birth never goes the way you think it will". I have some major beef with this. Yes, you can never predict labor and birth. I'm not saying that. But if you just throw your hands up in the air and say "whatever happens, happens", probably a lot of "whatever" is going to happen. And I didn't want that. So when I'd listen to my badass birth songs, I'd envision exactly how I wanted my birth to go. I did this pretty much every day, several times a day. It pumped me up and encouraged me. Our minds are much more powerful than we give them credit for.
Had a great team behind me
My husband was already behind me, but I educated him every step of the way as I was learning things from my books. I told him how important he was going to be in supporting me through labor and birth. I also very carefully picked out my birth team. I didn't just go to the closest doctor to me or the ones who accepted my insurance. I picked out my midwife based on her experience and how she made me feel. I knew instantly after meeting her that I could trust her. And I could tell she cared about me and my pregnancy. And having all of these supportive people with me during my labor made it the best experience of my life (both times).
Obviously these are all of my own philosophies and beliefs, but I hope I gave you a good idea or two to help you get mentally prepared for the awesomeness that is childbirth. I think what's most important is to go inside yourself and not listen to the world's noise around you. Become still and calm. Have faith and know that you can do it. Don't think of what could go wrong, think of what could go so right and focus only on that.
How did you mentally prepare for childbirth? Do you have any encouraging tips?
---
Jessica Dimas is the author of the book "Sacred Self-Care for the Highly Sensitive Mom." Follow along on Facebook and Instagram to stay updated with future posts.