I have been shopping around for pre-k/kindergarten boxed homeschool curriculums and have found the coolest, cutest toys and books while doing so. (True story, last night every time I would wake to toss or turn, I was dreaming that I was a boxed curriculum, I don't even know how that's possible but it happened...).
Even though some of the curriculums I don't want to purchase, I've still been keeping a list of the educational and fun toys or books I found so that I can purchase them individually myself. These would make excellent birthday or Christmas gifts! These toys are intended for a general age range of 3-5 years old.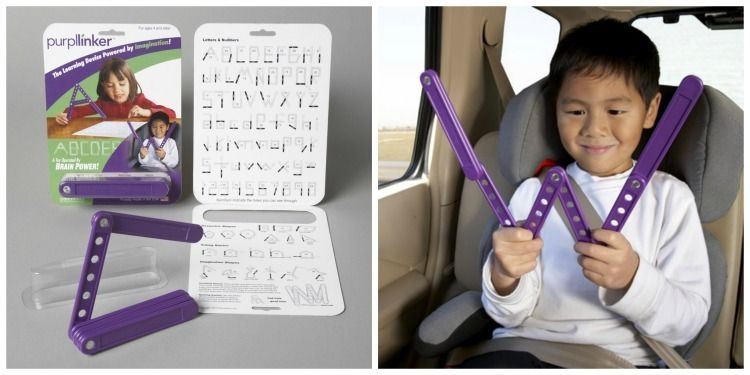 Purpllinker - I love this thing. It's shaped like an old-fashioned carpenter's ruler, but smaller and softer so it's easier to maneuver for kids. It holds it's shape and kids can create the entire alphabet with it! I could see us using this like in the picture above, while in the car and me asking Piggie "Can you make the letter A?"
What I love about this animal alphabet activity book is that it's super inviting with all of the cute little animals and has a lot of activities that will develop pencil control, help them learn the alphabet and is a great introduction to phonics.
What I love about the Magnatab is that when they trace the letter with the magnetic stylus, the little balls snap up to the top to make the letter, and then afterwards, the child can trace their finger over the letter and the balls clack back down into the base (which is actually a traditional Montessori method for teaching the alphabet). So fun and such an enticing way for kids to be introduced to letters. There is also a lowercase board and a number board.
THIS TOY IS AWESOME. It's inspired by the traditional Cuisenaire rods used in Montessori schools, and is an "award-winning, interactive toy for tablets".  What I love about it is that it teaches counting and addition, and the three apps are in 10 different languages. I was never good at math because I never really found it fun, so I love this idea of making math tangible, interactive, and engaging. Check out this video to better understand how it works (because I was totally confused at first):
Three Little Piggies is a brain game that involves using logic in order to keep your piggy away from the wolf. During the day, the piggies are outside of their houses playing in the river, but at night they need to be safely inside their homes. It also comes with a cute 24-page picture book. I love that this game has large, easy-to-handle game pieces.
I think these German building blocks are so cool; there are 18 wooden pieces and template cards that show different pegging variations (with 3 levels of difficulty). On the backside of the cards are instructions for how to put together the completed model. I love that they could build these freestyle or build from one of the template cards. This would be great for sorting and matching, and for motor skills as well. Awesome brain toy!
I really love these brightly colored magnetic blocks, which come in a little carrying case that also doubles as a dry erase board. Your child is challenged to see how many patterns and designs they can come up with, exploring which shapes will fit together. This toy develops fine motor skills, visual thinking skills, matching colors, shapes and sizes, counting, categorizing, and sorting. I really love all the cards that come with it as well for ideas on different things to make. The thing Piggie loves most about Legos is following directions to build things, so I know he would love this.
I had never seen these until I stumbled across this one awesome boxed curriculum and I love them! It looks like you can just build so many different things with them, I love the endless possibilities. It's a 400 piece set that comes in it's own storage container and has a 60-page spiral bound guide book that has lots of ideas for things to build. The pieces snap together easily but do not fall apart. These blocks would help develop fine-motor skills, hand-eye coordination, spatial skills, creativity, and problem solving.
This science kit is a MUST for us! There are over 75 experiments to try and the kit has now been updated with a new Energy Stick, which apparently you can use to make your child a human circuit board to teach them about conductivity. I love how much this would engage my boys' curiosities and encourage them to explore the science behind how things work.
Oh my gosh, I want this book for myself! It has the entire atlas inside, full of little flaps to lift up which make learning so memorable and fun for children. I love how brightly colored it is and all of the illustrations. Give your preschooler a cozy place to sit and let them get lost in different countries and cultures, exploring the world!
This is a really nice sized book with large stickers that make it easy for preschoolers to grab and place in their desired area. Also the stickers can be pulled back up again without tearing the page, which is awesome. Some other Usborne sticker books I want are the "Zoo", "Big Dinosaur", "Under the Sea", and "Trains".
I was totally going to pass this one over because we have so much play dough and that's already enough headache for me to clean up, but I watched the video on Amazon so I could see what the consistency was like: it looks so fun! And when I read that it doesn't leave a mess on carpet, I definitely decided to add this to my wishlist. I love the way it can be stretched but also be in solid form. I know the boys could spend hours playing with this. It's gluten, wheat and odor free, and also won't ever dry out. It actually looks a lot more fun than play dough!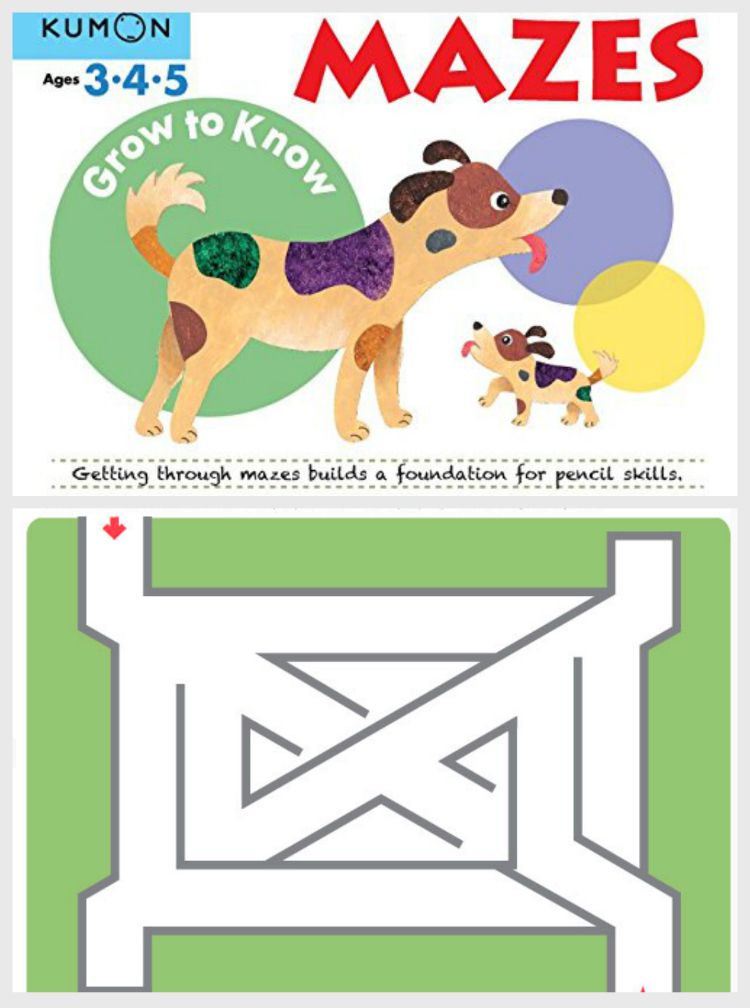 This is such a cute book with all of these little mazes for your preschooler to figure out. It develops the skills of pencil control, spatial reasoning abilities, and concentration.
Things I love about this toy: the large, colorful wooden pieces, all of the options possible for where to place things, and that this is such a fun way to develop fine motor skills and engage creativity.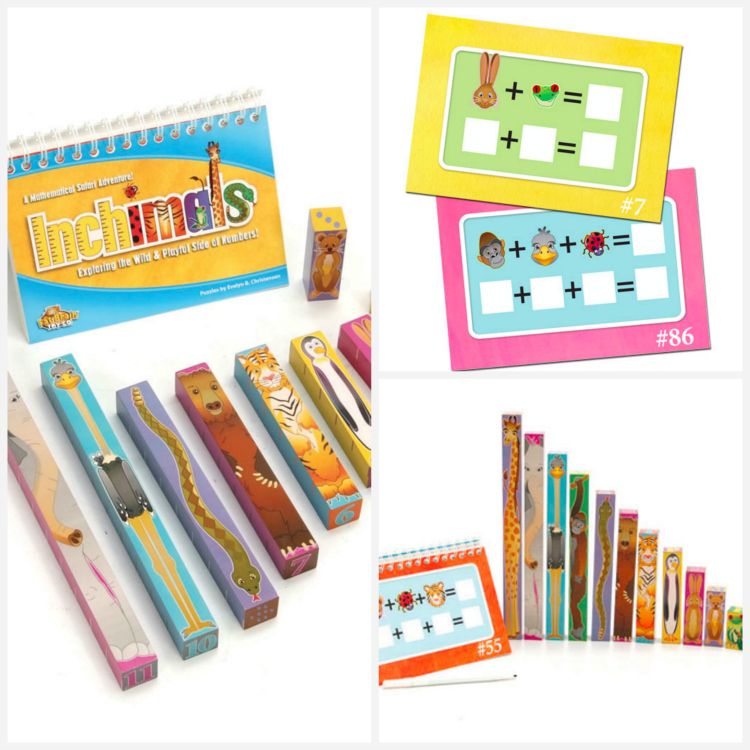 This cute math set comes with 12 colorful, wooden rods and is great for introducing your preschooler to math. The set comes with 100-page wipe on/wipe off spiral-bound book that is full of math puzzles. I really love how the numbers are written on the ends as well as dots. Inchimals introduces young children to addition, subtraction and math vocabulary while doing so in a tangible way. Definitely a must for our homeschool collection.
These are the coolest blocks I've ever seen!!! My boys are obsessed with building Legos, Duplos, and wooden blocks, so they will be in heaven with these. Why? Because they're magnetic!! How cool, right? This takes the options to a more endless level. Wooden blocks are known for developing fine motor skills, concentration, and math skills as well, so add in the added element of magnets and these are the perfect educational toy to have in your collection.
Another amazing flap book, this one all about the body. There's flaps under flaps to pull up, and the book answers questions like "where do babies grow?" age appropriately. My preschooler is in the stage of asking why for everything, so I know he will devour this book!
That concludes my educational toy wishlist (hint, hint anyone related to me). What are some of your favorite educational toys and books?