Where to start. First, I'd like to ask my dad to stop reading at this point, for the sake of both our dignities. This is a tale from deep within the hidden crevices of the postpartum vault. But the kind of postpartum that isn't right away...the kind from a couple years down the road, maybe after another kid or two...after your kids have sucked all the life out of your body literally kind of postpartum.
I guess I will start on that fateful afternoon where it all began. I was laying on the ground playing with my children. Resting my head on my hand, they would run up and I'd grab them with my free hand and tickle them before they'd run off again. Giggles abounded and I felt so on top of my mom game. I was winning. Enjoying the moment. I even felt semi-sexy with my hair cascading over my shoulders (I had done my hair and makeup that day...I was so winning). The hot wife and doting mother, like damn...where is the Pinterest paparazzi when you need 'em? Yet little did I know, everything was about to turn very dark and grim.
Let me just give you a bit of background info on the history of my boobs. I started out not having any for a very, very long time. I believe I was dubbed "Tortilla Flats" on the playgrounds. I was the latest of late bloomers, and I had some awesome braces to go with the flatness situation. My life changed significantly the summer before 9th grade. It was like overnight, I went from nothing to BAM. Then the braces came off...I walked into my 9th grade year with my proverbial middle fingers high in air and Jay-Z's "Big Pimpin" playing in my mind's background. "Watch out mofos, I got boobs and straight teeth now, wassup." From then on, I pretty much had my pick of whatever boy I wanted and I complained about things such as bras digging into my shoulders and back pain. Life is rough when you have awesome boobs.
Cut back to the floor scene where life with awesome boobs as I knew it was about to meet an awful fate. As the children ran off, I looked down towards my cleavage area to make sure nothing had fallen out (#bigboobproblems). Things get a little fuzzy from here on out, everything started to swirl in slow motion. All I remember seeing was like....this remnant of what used to be my awesome boob...but instead of being pushed up from being against the floor, my poor boob was hanging and lifeless in the bra cup (#deadboobproblems). It looked 90 years old. This was sort of the view I had looking down at my boobs that day.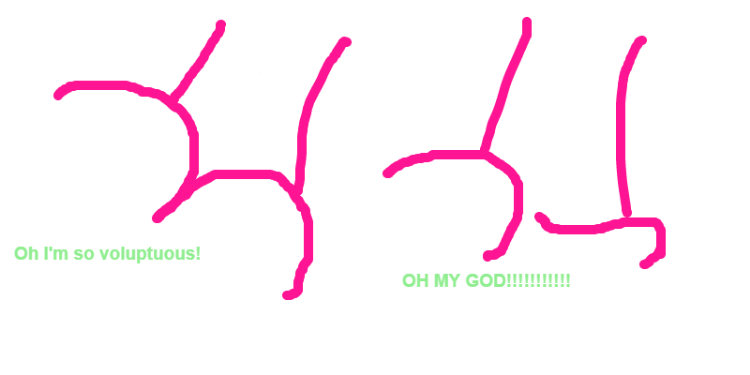 I literally yelled out "OH MY GOD!!!" and quickly rolled onto my back and pulled my shirt up to my neck. Maybe if I could instantly erase the image from my mind that I'd just seen, it'd be like it never happened. The kids came running back in to be tickled...."GO AWAY!!!" I barked. Pinterest mommy was gone. I laid there, dazed and staring at the ceiling...when did this happen...how...for how long...had Luis seen it? Maybe it was just a freak accident from the way I had been laying...
I rolled back over and slowly looked down. OMFG!!!!!!! Are you SERIOUS, life?! My boob...was effing gone. 
As the days went on, there was much pondering, observing, standing in front of the mirror at all angles only to be horrified at what I saw. I went back to the beginning, when I started tandem nursing. That was the side that the baby took and the toddler took the other side. When I weaned the toddler, his side kept making more milk so I naturally had to put the baby on that side more often. It started out as a difference in breast size that then apparently made the smaller boob feel so unneeded that she just LEFT!!! Died!! Her body is still here but the plump soul is gone. Do you catch my drift?

I had pretend conversations with my abandoned boob.
Me: What happened?
Boob: Did you really think you could work me 24/7 and not expect me to jump this shitty ship?
Me: Ugh, what? Look, I know I've put you through a lot these last 4 years but damn, you're only 30, what the hell??
Boob: You and that stupid attachment parenting crap, "it's all for the baby lest they become traumatized if they don't have boob for 20 years!" You just HAD to breastfeed TWO kids at the same time, 'round the clock! Did it win you any mommy awards?
Me: Uhh wow, you're being really harsh...but wait, they told me breastfeeding doesn't ruin boobs?!
Boob: Well I don't know anything about what "they" told you, but I'm here to tell you SAYONARA sister, I'm done. I did my time...it was like 10 years worth of time in 4 years...but I did it. Peace out.
Me: Wait!!! I wasn't ready to say goodbye...
Where am I at today in this tragic story, you ask? I've accepted it. Or not really...I mean it depends on the day, the shirt, the bra, the position, if there's a mirror in front of me or not. I'm looking forward to weaning Dacky this year so that my living boob can join the other one in boob heaven and I can finally have two boobs that look the same again, even if they're both dead.
- Updaaaaate -
I wrote this a year ago and I've gotten lots of comments from women who said my boobs would "come back". To which I snorted and thought yeah whatever, not gonna hold my breath.
Just wanted to inform everyone that THEY REALLY DID you guys!!! As you know, Lefty died first, and then I started noticing that they evened out in size so I thought well, they're both dead now, RIP. But then I started getting breast soreness once a month like I used to before I had kids, and they starting FIRMING UP.
They're not the exact same as they used to be, but wow did they regain some life in them. I was seriously worried for their future, but the rumor that breasts can come back after breastfeeding apparently holds truth! Moral of the story, give your body time to bounce back from childbirth and breastfeeding, it's just in shock with one leg over the boat wanting to jump because it's scared.  No sudden movements, just gently coax it back with lots of coffee, baths, and no harsh lighting.
---
Jessica Dimas is the author of the book "Sacred Self-Care for the Highly Sensitive Mom." Follow along on Facebook and Instagram to stay updated with future posts.