This shop has been compensated by Collective Bias, Inc. and its advertiser. All opinions are mine alone. #CreateWithHP #CollectiveBias
For the last few weeks, I've been excitedly getting ready for my oldest son's first year of homeschool kindergarten. The curriculum is bought, sorted and organized, the annual homeschooling conference has been attended, and I've got my new HP printer set up and ready to go, woot!
A printer has been one of my most used resources in our homeschool area for the last few years as we've done our preschooling at home. I stole my husband's HP printer out of his office and have been using it for all of our school stuff, but this past week I purchased my own HP printer and it's a lot prettier and sleek than his 😉
Husband's HP printer
Versus my HP printer (the new Deskjet 3636 in Dragonfly Blue)
So much prettier, right?! And much less bulky; perfect for our already crowded homeschool station. But most importantly I can print up to twice as many pages with Original HP high-yield ink cartridges, which is crucial for me since I use my printer so much for our schooling.
One thing I love to use our printer for, especially at the beginning of the school year, is for creating homeschool planning sheets. I prefer to create and print my own because it's nice to be able to tailor everything to our family and have on there exactly what I need.
I've been creating our planning sheets for the last few years and would love to take the opportunity today to show you how a little behind the scenes on how I do it. I prefer to use Pages, although I have friends who make their planning sheets on Google Docs or Word. But regardless of which program you have, hopefully you can get some ideas here!
I've created 3 planning sheets for you guys today, and in this video I'm going to show you how I created one of them:
After I created my planning sheets, I simply printed them out with my HP printer and this is how they look. I love the high-quality print and sharp detail of the colors: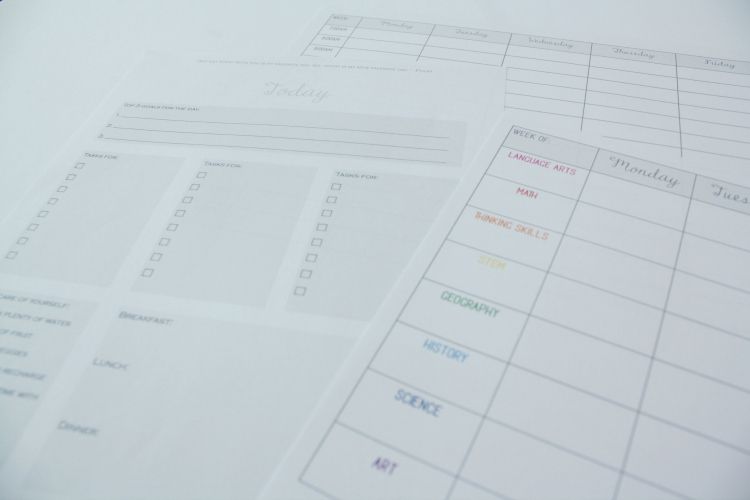 I use our printer for everything under the sun it feels like. From our planning sheets to scanning copies to printing out coloring pages and crafts from Pinterest.
The coolest thing I can do with my HP printer is print from my phone without having to access any network. I love not having to get on a computer or bring out a lap top in order to print something out, especially if I'm in the middle of doing homeschool with my boys and don't want to distract them. I can also print from any room that I'm in so if I'm nursing my little one down for a nap, I can print from my bedroom while on my phone and have my papers ready and waiting for me after my son is asleep!
If you're looking for an affordable and space-saving printer, I highly suggest the HP Deskjet series which are all new and available at Wal-Mart. They're seriously the cutest printers I've seen and they come in three pretty colors: Vibrant Red, Dragonfly Blue, and Sporty Purple.
Go to Wal-Mart's printer aisle and you'll find them there:
Setting the HP printer up was very easy; I did it in less than 20 minutes while my boys were napping. I was really impressed with what I found I had access to in the HP printables section on their site while registering my printer; there are tons of coloring pages, which I will be making use of because it's hard to find quality coloring pages for free.
This printer is truly perfect for families and students. It's not an eye-sore like most printers, it saves space, the printing quality is amazing and as I mentioned before, you can print up to twice as many pages with the Original HP high-yield ink cartridges. It's a perfect addition to our homeschool room.
Head on over to check out the HP Deskjet 3636 and if you'd like to download the 3 printables I created today, you'll find them in the Subscriber's Library.
What's one of your most loved and used items in your homeschool room? I'd love to know in the comments!