Hey you guys, hope you had a great weekend!
My weekend was pretty awesome. I got to sleep in both days, thanks to Luis! And Luis and I were both productive on Saturday; me cleaning the house and cooking and him working in our backyard.
Sunday the boys and I went over to my parent's house for lunch and then went back home, picked up Luis and went to Home Depot to look at pavers and backyard stuff. Then we went to Paradise Bakery for dinner and afterwards a frozen yogurt shop.
Besides Piggie screaming "NOOO!" at the top of his lungs at us in front of everyone because he only wanted "chokkit" (chocolate) for dinner, it was a nice evening!
Seriously though, that kid is smuggling waaaay too much chokkit recently. For one, there's too many weak adults around him, like Luis and my mom. Two, no one wants to hear his big mouth so we cave and hand over the goods so he'll shut it. Not good, not good at all.
And today I'm guest posting over at Joyful Life for her Happy Home Maker weekly series! I'm giving a little tour of some of the most lived in rooms of my home. So hop on over and come inside 🙂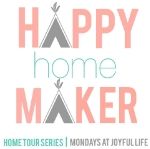 -Jessica