I had another post lined up for today, but I couldn't get my mind off of blogging; how to take my blog to the next level, what courses could I take that wouldn't cost me my firstborn child, what am I currently doing or not doing that isn't helping my cause to be a professional blogger...I must find the answers!!!
I researched lots of blogging courses today. The ones I'd actually be interested in taking are super expensive. I know that I would greatly benefit from taking a course or attending a conference; I hear these types of things are the turning point for many bloggers' careers, but I'm not quite ready to jump off that cliff. Or...I haven't figured out how to sneak up on my husband and push him off that cliff while I hang onto to his wallet.
A part of me believes that all the info that you can get in a course or at a conference is OUT THERE, it's just scattered and you have to find all the pieces and put it together yourself. In addition to finding info out there scattered on different blogs, I think there's great value in reading books by experienced bloggers. Sure, they may not be as interactive and personal as that blogger's eCourse, but a lot of books have all the same info in them that a course has, you just have to be self-motivated to learn and apply the information into your blog or business.
I spent a lot of time tonight going through the top blogging books on Amazon (and a few not). I'm a reviews whore - meaning I stalk the review section and try to filter out the fake reviews so I can read the real ones. I want lots of stars and lots of reviews! I know some newer books may not have that many reviews built up yet, so I also check out the table of contents in each book to see if it's worth my time. I'm not a beginning blogger, so while a lot of these books do have chapters on starting blogs, the ones I've picked out to read really expand on blogging more in depth, specifically time management, blog promotion and social media strategies, and detailed avenues of making money from you blog.
My plan for now is to try and gain some insight, knowledge and ideas from books (most of these are free on Kindle) and put it all together into something that works for me. So without further adieu, here are 10 blogging books I'm itching to read!
Why I want to read this book - there are three things in the table of contents that caught my eye: 3 primary ways to earn money, how he increased Adsense earnings in 3 months, and 7 helpful tools that made it all possible.
Amazon - Paperback 3.99 / Kindle $0 
Blog, Inc - Blogging for Passion, Profit, and to Create Community
Why I want to read this book - this book, written by the blogger of Oh Joy!, delves into pretty much everything I want to know or would love to talk about with another blogger. She goes into every faucet and aspect of blogging. She also has multiple chapters on turning your blog into a business and creating products to sell.
Amazon Paperback $11.30 / Kindle $9.99
Why I want to read this book - I'm actually about halfway through this book. Ruth has a blogging course, Elite Blog Academy, and while doing some research today on reviews of the course, I found that some bloggers believe most of the course information is actually in her book. So...yeah, I'll continue reading the book. It'll save me $400. And I like what I've read so far, she really goes into detail about what makes a blog successful before the money comes in.
Amazon - Paperback $14.39 / Kindle Unlimited $0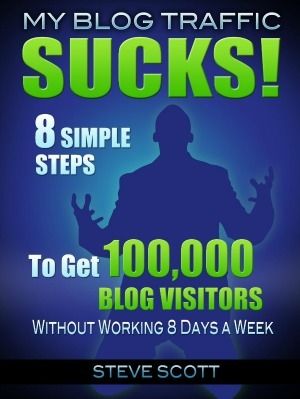 Why I want to read this book - yes, the book cover is an eyesore, but the number of good reviews caught my eye. I checked out the table of contents and what appealed to me were these 4 things he covers in the book: a traffic plan that doesn't take much time a week to implement, 4 habits of highly effective bloggers, 7 step checklist to promote each blog post, and building a large Twitter audience in 30 minutes a day. My blog traffic is actually improving monthly, but I know I still have a lot to learn in the way of promotion. I also suck at Twitter so learning a few tricks would be nice.
Amazon Kindle $2.99 / Kindle Unlimited $0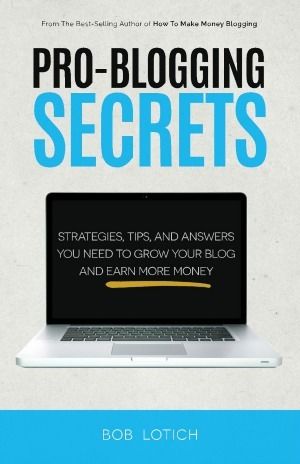 Pro-Blogging Secrets - Strategies, Tips, and Answers You Need to Know to Grow Your Blog and Earn More Money
Why I want to read this book - Bob Lotich's second book on blogging, I really want to read this one because he discusses a lot of blogging concerns and questions I have, like dealing with hackers, dealing with the issue with putting your address in a newsletter, his top 10 must have plugins, an after-publish checklist and growing your Facebook and Pinterest following.
Amazon Paperback + Kindle $9.99 / Kindle Unlimited $0
Why I want to read this book - this book has 5 STARS! What grabbed my attention in the table of contents: the blogger's success pyramid, 4 keystone habits that full-time bloggers practice daily, and a 12 month plan.
Amazon Paperback $12.95 / Kindle $2.99 / Kindle Unlimited $0
Why I want to read this book - first of all, holy reviews. 463 people gave this book 4.5 stars. Second of all, I need this book so badly. I think most writers don't consider themselves writers. Chapters in the table of contents that drew me in: Claiming the Title, The Myth of Good, It Gets Tough, Three Tools Every Writer Needs, and Before Your First Book. Yes, totally going to devour this book.
Amazon Paperback $7.99 / Kindle $0.99 / Kindle Unlimited $0
Why I want to read this book - confession, I already read this book. Devoured it in one weekend. Abby proves that you don't have to have been around in the blogging world for a long time in order to make money. She now shares her income reports, and last month she made eleven G's!! She's a different niche than me, but the two main parts of her book that I loved were her social media strategies and the sections where her husband shared his method for how he set up Adsense ads on her blog. She's with a blogging network now I believe but his advice was so helpful. Abby, you are lucky to have your husband helping on the technical side of blogging! I'm jelly.
UPDATE: Abby has MAJORLY updated this book and has all of these amazing add-ons now. There's 3 packages, which comes with 20 blogging video tutorials and 15 blogger interview videos...honestly overwhelming how much info there is! Seriously, if you're interested in a blogging course but don't want to shell out the money, this is the NEXT BEST THING.
Just A Girl and Her Blog eBook Starter Package $25
Why I want to read this book - basically because Becky and Paula are hustlers and so successful. Have you seen Becky's income reports? Homegirl makes close to 30 THOUSAND a month. I can't even wrap my brain around that. So yeah, I think these two know something I don't and I could definitely learn a thing or two. I like that they're both moms who put family first and don't spend their days blogging (hence their blog title). Becky says she blogs for 4 hours a night after her kids are in bed. Their book really goes into all kinds of details about blogging, any and everything you would need to know. I can't wait to read this one.
Blogging on the Side eBook $19.99
Why I want to read this book - okay, it's not a book but it's a super intense blog planner. No one does it better than Regina in the creative planning department; check out her blog and be blown away. She shares so much helpful info on blogging and entrepreneurism. This planner is like half workbook to help you figure out where you're going with your blog, what kind of products you want to sell, etc. There weren't many pics on Amazon for me to see so I found this tutorial by Regina on YouTube showing the different pages and how to use them. Totally itching to get this just for the workbook sections (the calendar and weekly planning section is amazing too).
Amazon Paperback $14.95
So there ya have it, my own personal course of books I want to check out in lieu of paying for a blogging course. If you don't have Kindle Unlimited, you seriously need to get on that! It's $10 a month and you can read your heart out. If you have any blogging book recommendations that I didn't list here, please let me know! I know a lot of bloggers sell them from their site only so I'm sure there's plenty more out there waiting to be discovered!